A bus to nowhere
The city of Regina's temporary warming bus shelter was an imperfect solution to much larger issues surrounding safe shelter for the houseless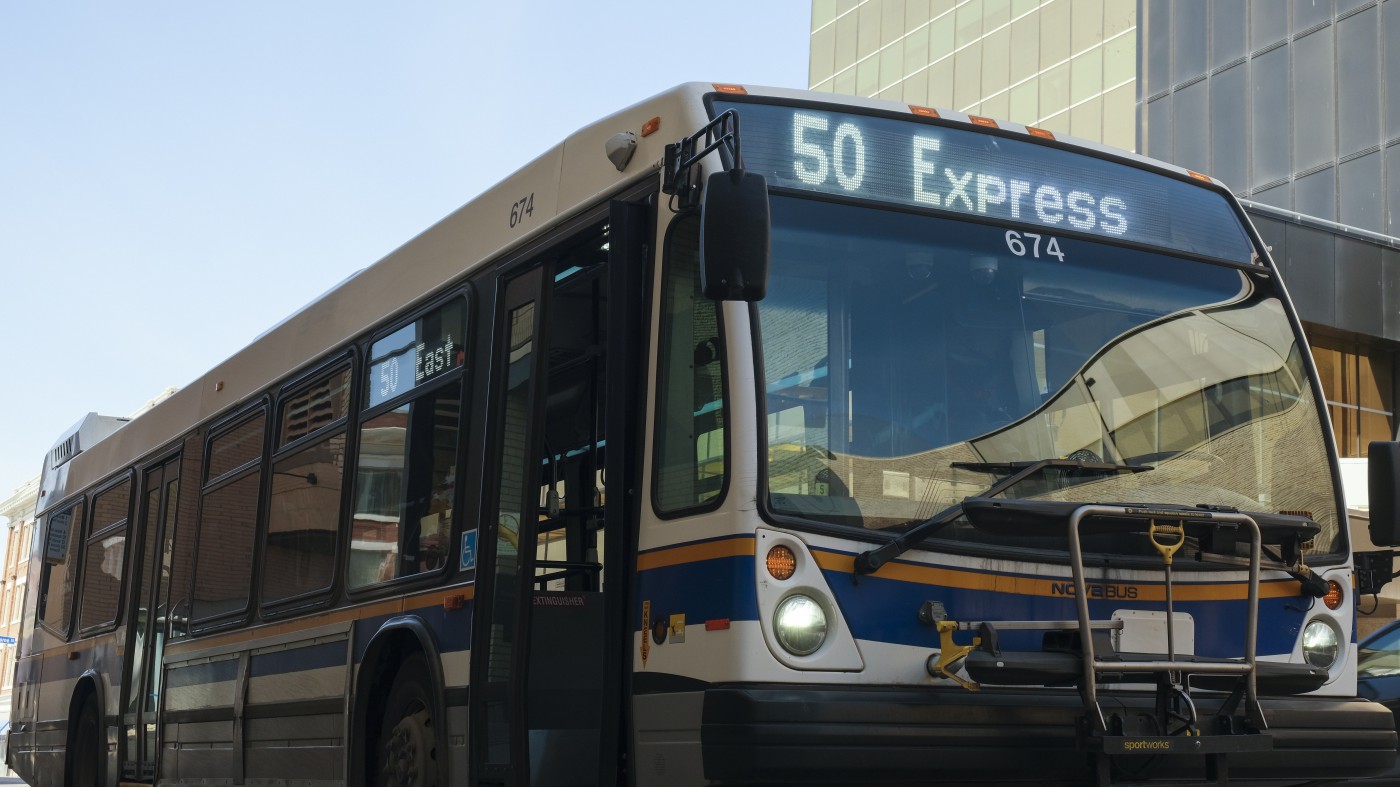 As clients of Regina's new temporary shelter stand outside smoking cigarettes, snowflakes and a brisk winter wind flurry in front of them. They're grateful that at least for tonight, they'll have a roof over their heads and mattresses to sleep on.
Before the shelter opened on January 30 in the old YMCA building downtown, houseless people in Regina were left with no choice but to ride the city's warming bus overnight. Over one month since its closure, the houseless people who once used it don't have fond memories of the service, and for good reason.
"At the time, I essentially had nowhere to go that was warm at night," says Dre, a client of both warming bus and, now, the temporary shelter downtown. Dre requested his last name be withheld for privacy reasons.
"As far as my personal experience on [the warming bus], it was kind of a bit of a gong show, like it was just a lot of things happening below the lines of the security."
The city shut down the warming bus service in early December 2022, when a new warming centre opened. But the city brought the service back a week later due to the high number of houseless people who couldn't find adequate shelter as temperatures drastically dropped.
Now, houseless people have a temporary refuge, until April 30 when the city plans to shut down the temporary shelter.
A night on the warming bus
Miracle Wolf, a houseless person who used the warming bus, looks back on her time there with palpable criticisms. Wolf, who has been houseless for eight months, claims she was kicked out of the bus one night because she brought food.
Shortly after the bus service started up again, the city declared that no food would be permitted on board. Volunteer groups who regularly dropped food off to bus riders were redirected by the city to take their donations to All Nations Hope Network, a local community organization working with the houseless.
This isn't the first time Wolf has been kicked out or left in the frigid temperatures.
"The first time it was 40 [degrees] below, I was outside all night," shares Wolf. "Luckily I was dressed up properly, like I was a marshmallow walking around. I will say I went to the cops, they kicked me out. I went to TD Bank, they kicked me out. They told me to go to the casino, they kicked me out."
"Every year, when winter rolls around, houseless people like Dre and Wolf will face the same life-threatening obstacles unless something systemic changes."
Wolf says that as an Indigenous woman, it's even more dangerous for her to get kicked out into the cold.
"[If] you're out in the streets walking around, hopefully, you don't get kidnapped and I'm still here somehow," Wolf explains.
Similar to Wolf, Dre also didn't have a positive experience on the bus. He believes the city needs to invest more in places similar to the temporary shelter he now stays at.
Dre prefers the shelter because it offers an actual bed and washroom, unlike the warming bus that has hard plastic seats with a thin fabric lining.
He argues that there aren't enough services to help houseless people get out of their current situation and regain stability. Dre explains that holding down a job is extremely difficult because you need to have a phone, a car, and money for gas, which are challenging to obtain and maintain when you're starting from square one.
"I'm not blaming anyone but myself for the position that I'm currently in," Dre asserts. "But at the same time, there's other things that could be offered."
Dre suffers from addiction problems that he said started after his mother abruptly passed away.
"Like a lot of us are in these situations, we have addiction issues, whether it's due to grief or other tragedies," Dre shares.
"Why couldn't we just spend all this money that we spent on the warming bus, on you know, permanent housing?"
Two other important supports, according to Dre, are adequate mental health services and more recreational activities in Regina.
"It starts to feel like what is a person to do other than to use and abuse different substances," Dre admits.
Noah Bigstone was one of the security guards on the warming bus hired through the Regina Treaty/Status Indian Service (RT/SIS).
Bigstone, a former high school football player who stands over six feet tall, says his father works at the RT/SIS shelter and helped him get a job there originally.
"As an Aboriginal person, I saw the struggles that people were having with homelessness and drug abuse and how much help they needed," notes Bigstone. "So, I dropped out of university just to work here."
According to Bigstone, the conditions on the bus weren't ideal, but it still succeeded in keeping people warm.
He had a difficult time witnessing the drug use on the bus and knowing whether someone was sleeping or overdosing.
On Bigstone's first night on the job, he says there were two attempted murders, but once the security guards and RT/SIS staff combined forces, they saw more success on the bus. Once security guards started to pat people down and use a hand wand, the RT/SIS staff were able to provide riders with clothing and food, Bigstone adds.
However, Kale MacLellan, a volunteer who helped provide food and support to the houseless people on the bus, thinks the security was excessive and demeaning to bus riders. She was also frustrated by the money going towards a warming bus versus an actual shelter.
"The fruit is so low, like, why couldn't we just spend all this money that we spent on the warming bus, on you know, permanent housing," said MacLellan.
Addressing houselessness
The use of warming buses in lieu of shelters isn't unique to Regina. Edmonton, Kelowna, and Lethbridge, also fund the same service.
According to an email from the City of Regina media relations department, the total cost of the warming bus came to $271,275, which includes bus operating costs, transit staff, security personnel, RT/SIS community support workers, inspectors from Regina Fire and Protective Services, and a portable washroom.
Issues with the warming bus are just a small part of a larger discussion about how Regina can best provide support for houseless people. Two city councillors – Andrew Stevens, who represents Ward 3, and Dan Leblanc, who represents Ward 6 – sued city manager Niki Anderson to force her to include $24.9 million for ending homelessness in the city budget.
According to Justice J.P. Morrall, who ruled on the case, the lawsuit was ultimately dismissed by the court because "the court should be quite leery of being involved in the political machinations and debates," Morrall's decision reads.
As for a potential solution to houselessness, MacLellan doesn't think it's that complicated: give houseless people houses.
MacLellan started volunteering by delivering pizzas directly to those on the bus before the city implemented their no-food rule. She organized with over 20 other people, using a group chat to coordinate support for people staying in the warming bus.
She believes houseless people deserve more dignity than they were given.
"It was just really sad to see how many people just accepted this," MacLellan states. "They are allowed no privacy, no dignity, no respect, because they're homeless. And that broke my heart."
As for a potential solution, MacLellan doesn't think it's that complicated: give houseless people houses. MacLellan also suggests that homelessness could be reduced if the province and city invested in more housing co-operatives and publicly owned housing, along with stronger protections for tenants against eviction and rent increases.
"I just see the greed of the landlords over and over again, and that's frustrating," said MacLellan. As of April 16, there are 5,790 eviction cases in Saskatchewan.
Since the warming bus and bid to end homeless getting squashed, city council voted and approved to start determining how they will fund their estimated $490 million Catalyst Committee projects. The projects include a stadium, a new aquatic centre, modernization of the downtown central library, and a non-vehicular walking path.
On paper, the warming bus is a success. It did its job – to keep people alive. Every year, when winter rolls around, houseless people like Dre and Wolf will face the same life-threatening obstacles unless something systemic changes.
As people mingling outside the temporary shelter patiently await the snow melting, the uncertainty of April 30 looms.