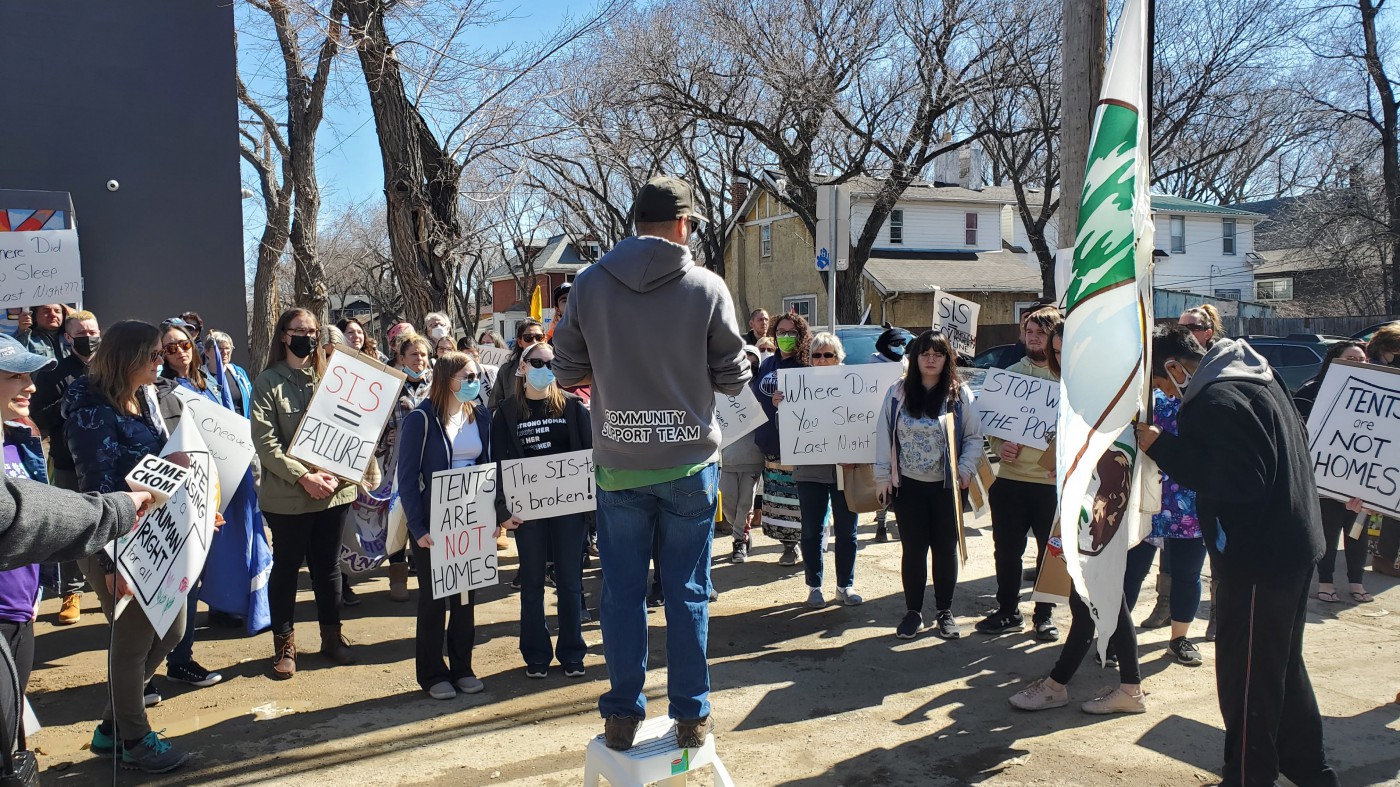 Steve Nayneecassum has been homeless for three years. In 2019 Nayneecassum was cut off social assistance, and two months later, when he was unable to pay rent, he was evicted. He has been without a house ever since, sleeping mostly at shelters in Regina.
On Monday, April 4, he gathered along with roughly 75 others in front of Carmichael Outreach in Regina to protest the province's low social assistance rates.
Being homeless has been "terrible, heartbreaking," Nayneecassum says. "I don't wish it upon nobody. And I wish for change – I want an increase [in] the SIS program."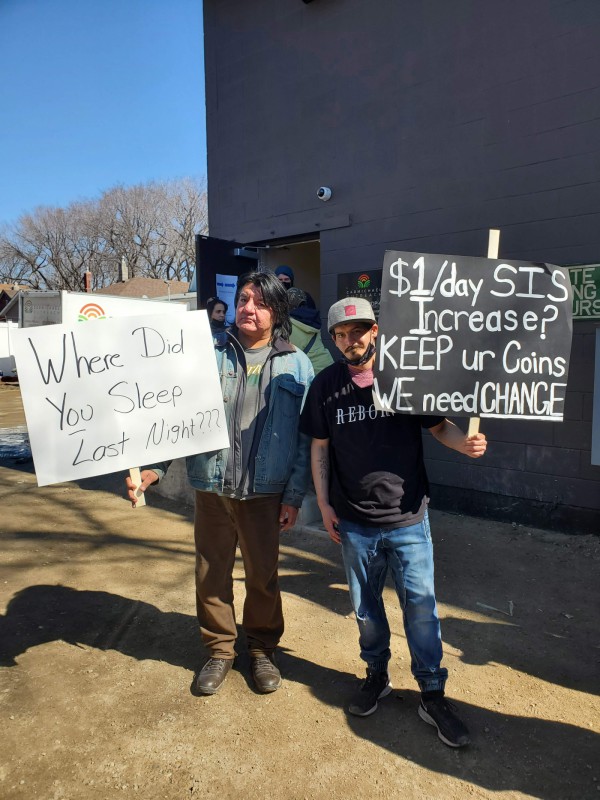 In 2021, when the Sask Party introduced the new Saskatchewan Income Support (SIS) program – phasing out the province's previous social assistance programs – Nayneecassum started receiving social assistance again. Today, he gets SIS's basic benefits for single adults: $285 per month, an amount that's supposed to cover all his necessities, from food to transportation. He doesn't get the $575 a month that SIS also provides to some people for housing and utilities.
On that small amount, "you just can't afford [rent]," he says. He adds he is also unable to pay for "internet, transportation, power, water – everything."
This is the main concern of the community members who gathered in Regina on Monday: they say that SIS benefits are so low that they are driving recipients into homelessness. On top of that, SIS no longer pays rent directly to landlords – which has made evictions more likely, since people are already struggling to afford other necessities. Members of the Saskatchewan Landlord Association (SLA) say that in the two months after SIS was introduced, 30 per cent of SIS recipients did not pay rent.
A growing homelessness crisis
Shylo Stevenson, an organizer of the event and the communications officer at Warriors of Hope Community Support, addressed the crowd before the march began.
"The Regina police did call me, they asked us politely to not walk down the street," said Stevenson. "If we are caught on the street blocking or impeding traffic, each person is subject to a $230 fine – which is almost our SIS cheque."
"[The police officer] did not appreciate that joke," he added, to laughter from the crowd.
The crowd of protesters walked on the sidewalk to the Ministry of Social Services office, chanting "The SIS-tem is broken" and "Tents are not homes." There, a few organizers accompanied low-income people inside the office, to advocate on their behalf and help them access social assistance and affordable housing.
Regina residents have protested against the Saskatchewan Income Support (SIS) program before, and with some success. After SIS was implemented in 2021, it immediately came under fire from activists and the Saskatchewan NDP opposition for both its low rates and the end of direct-to-landlord payments. In response, the Sask Party reinstated direct pay to landlords – but only for some "high needs SIS clients with complex challenges who are at risk of homelessness," the Ministry of Social Services said.
"Just yesterday, we were walking on 11th and we met three separate people who had recently become houseless."
But the benefit rates have remained untenably low. As a result, Regina's homelessness crisis has been growing. It erupted into the public eye in October 2021, when an encampment began in Pepsi Park just months after the introduction of SIS. Residents called it Camp Hope.
Victoria Byrne-Watson, one of the organizers of Monday's march, first volunteered at Camp Hope in 2021, bringing hot food to camp. Since then, she has continued to advocate for low-income people in Regina – and she says that as the weather's gotten warmer, she's seen more and more people living on the streets. "Just yesterday, we were walking on 11th and we met three separate people who had recently become houseless," she says.
In 2021, Flow Community Projects, with support from the federal government, conducted a point-in-time survey of homelessness in Regina. The survey found 488 people experiencing homelessness in 2021, up from 286 in 2018. Byrne-Watson adds that the number doesn't even include the 100 or so people living at Camp Hope at the time.
After the end of Camp Hope in November, the province provided funding for Regina Treaty/Status Indian Services (RTSIS) to open a 40-bed indoor emergency shelter with a six-month lease. "The RTSIS shelter is about to close in a matter of weeks now," says Byrne-Watson, "so at the end of the month, that's guaranteed another 40 people on the streets."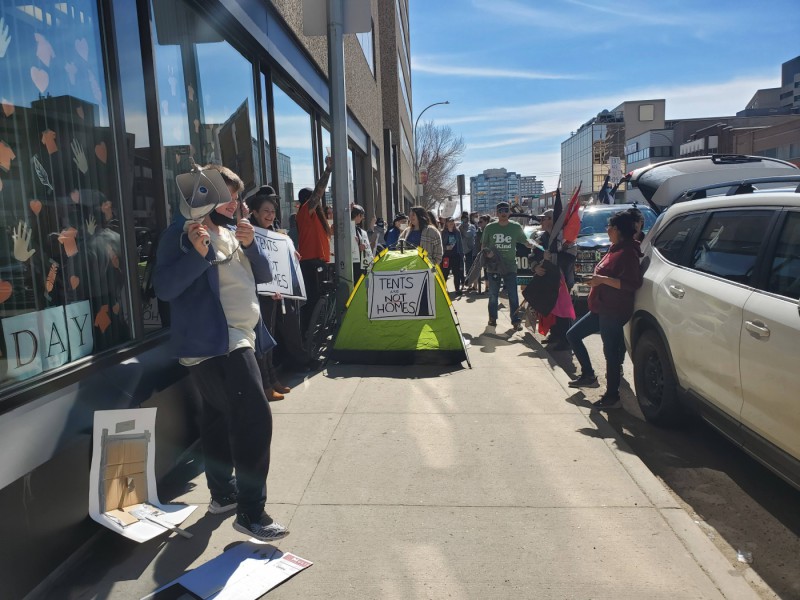 "A real slap in the face"
In the 2022-23 provincial budget, the Sask Party announced it would increase SIS rates by $30 per month for basic benefits and $25 per month for shelter benefits – but activists say it's nowhere near enough. "A $1 a day increase is barely enough to cover the PST hikes that we also saw in that same budget," says Byrne-Watson. "It was a real slap in the face."
Minister of Social Services Lori Carr has said that Saskatchewan's social assistance rates "are amongst the highest across Canada." However, Byrne-Watson isn't impressed. "If the minister would just read a single report on houselessness, it's a country-wide problem," she says. "Every province has a houselessness issue right now. So comparing ourselves to failure, what is that going to do?"
Carr has also said that the Ministry measures success by the number of SIS recipients – the fewer the better. However, the Ministry also doesn't keep track of the reasons people leave the program.
"A $1 a day increase is barely enough to cover the PST hikes that we also saw in that same budget."
"You don't know if that's because they died, or if that's because they got kicked off of your program, or whatever it may be," says Byrne-Watson. She adds that there are "ample barriers" to marginalized people accessing SIS – from the fact that the ministry is only open during business hours, to the fact that SIS recipients require a bank account. "I personally don't know of any banks that will let you open a bank account without ID," she says, a major roadblock for homeless and undocumented people.
Asked what the protest's immediate demands are, Byrne-Watson says, "Direct pay to landlords needs to come back immediately. We need to bring back a separate payment for utilities – rent and utilities cannot be lumped together under $575 a month."
"And obviously, SIS needs to be abolished," she continues. "We need people to meet with CBOs [community-based organizations] and people who are actually houseless and get their input on what might help. In the coming weeks, you'll hear more about our specific demands."