Will austerity lead to prosperity?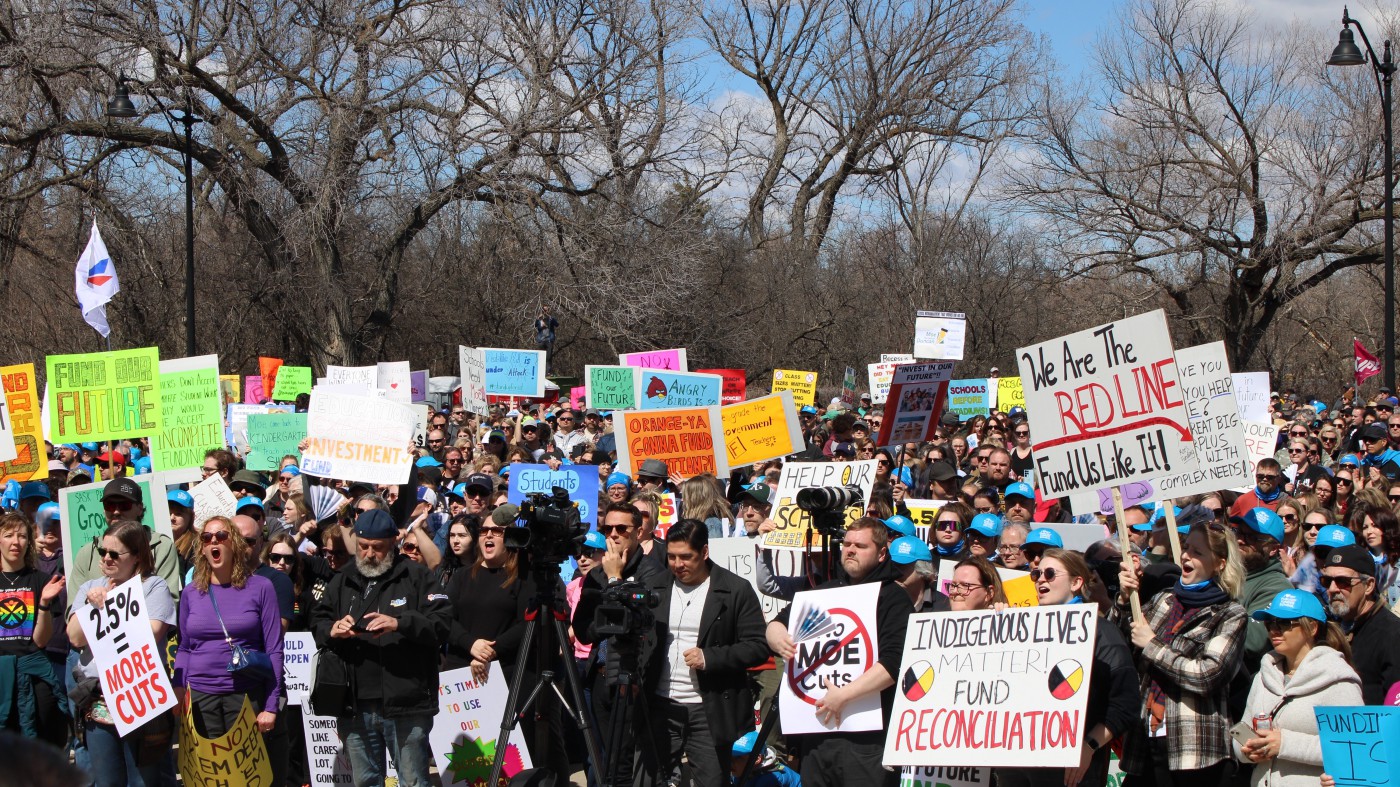 Since the Sask Party gained power in 2007, the party has become synonymous with the word austerity. During their time in government, the party has balanced only five out of the 15 budgets they've presented. Particularly notable was the 2017 budget, which brought deep cuts across the province, shuttering the Saskatchewan Transportation Company, cutting post-secondary funding by $25 to $30 million, and ending subsidies for special-care residents. The same deficits and deep cuts happened again in the 2019–2020, 2020–2021, and 2021–2022 budgets. In fact, the recently announced 2023–2024 budget is the first balanced budget Saskatchewan has seen since 2014–2015.
In January 2023, the Fraser Institute released a report looking at the growing debt faced by the federal and provincial governments in Canada. According to the report, Saskatchewan's net debt grew from $8 billion to $15.2 billion between 2007 and 2023 – a 90.4 per cent increase. In the same period, the province's net debt per resident increased nearly 60 per cent, from $7,950 to $12,697.
These numbers are even more striking considering the Saskatchewan NDP delivered 14 consecutive balanced budgets before the Sask Party formed government in 2007, despite the $14 billion in debt Premier Grant Devine's Progressive Conservative Party ran up during its two terms. The Sask Party also inherited a province on the upswing of a resource-driven economic boom that started in 2006 and managed to see profit at a time when many other governments didn't during the 2008 recession.
The party claims its funding cuts will lead to prosperity for the province. After a decade of tightening our belts, when can Saskatchewan expect returns on those budget cuts? Or will the Sask Party's austerity measures simply beget more austerity and tighter belts? Let's look at the Sask Party's track record with transportation, education, and health care to find out.
RIP, Saskatchewan Transportation Company
The Sask Party's 2017 budget cuts shuttered the Saskatchewan Transportation Company (STC), the last publicly funded provincial transportation company in Canada. The government reasoned that only two of the 27 routes were profitable, ridership was down, and closing the STC opened up competition for private business. Meanwhile, more than 200,000 riders were left without safe, reliable transportation, severely impacting community members' mental health, safety, and access to health care.
Marginalized people, including women, seniors, and low-income people, are the most impacted, with some resorting to hitchhiking or simply being left without transportation altogether – situations that can put already marginalized people in more danger. A 2020 report from Sexual Assault Services of Saskatchewan notes that the loss of the STC created a barrier to sexual assault survivors accessing support services. At the time of the closure, the Sask Party said it would cost $85 million over five years to continue operating the STC – money, the party claims, that could be used elsewhere.
Education cuts lead to larger class sizes, higher tuition
Public education has also suffered from the Sask Party's repeated budget cuts. A 2021 report published by the Fraser Institute shows that while student enrolment increased by 5.5 per cent between 2014 and 2019, education funding per student actually fell by 4.6 per cent. The report also indicates that operational spending decreased by 5.7 per cent and capital spending fell sharply by 61.4 per cent during the same period.
The province has tried to play catch up: In 2015–2016, the province spent an additional $690 million to cover a decade's worth of increased enrolment and rising education costs. This was after homeowners received a 14 per cent decrease in education-bound property taxes in 2009. The savings were short-lived: Homeowners saw those same taxes increase by 10 per cent in 2017, for a total of $67 million, even as education funding was cut by $22 million in the same budget.
Post-secondary education funding has been equally insufficient, for both institutions and students. Between 2010–2011 and 2020–2021, Saskatchewan saw a 27.5 per cent increase in university enrolment, yet in 2017–2018, both the the Universities of Regina and Saskatchewan faced total funding cuts of $44 million.
Without adequate provincial funding, Saskatchewan's universities will need to find extra funding somewhere, often in the shape of tuition hikes, larger class sizes, and reduced student services.
In 2019, the then-minister for advanced education, Tina Beaudry-Mellor, critiqued the universities for raising tuition, saying, "[T]hose same institutions, really well-funded by the government, are also increasing tuition. That's a bit of a concern we have." What Beaudry-Mellor didn't mention is that tuition raises were to make up for lack of adequate government funding, with both the University of Regina and the University of Saskatchewan having increased tuition multiple times. In 2009, the average yearly tuition for a full-time undergraduate student in Saskatchewan was $5,238. In 2023, that same tuition is $8,854.
Although the Saskatchewan government posted a $1 billion surplus in its 2023–2024 budget, post-secondary education saw an increase of only 3.3 per cent. The University of Regina has said the funding is not enough to cover its budget deficit, which has prompted university administration to ask faculties to cut their budgets between five and seven per cent to make things financially manageable. Without adequate provincial funding to match both inflation costs as well as increased demands for educational services, Saskatchewan's universities will need to find extra funding somewhere, often in the shape of tuition hikes, larger class sizes, and reduced student services.
High health-care spending is not a positive indicator
Even Saskatchewan's more well-funded public services have been negatively impacted by our austerity-minded government. Tracking health-care spending between 1985 and 2016, a 2017 report from the Institute of Fiscal Studies and Democracy reveals Saskatchewan has had above-average spending on health care yet has also had some of the poorest health-care outcomes. A 2015 report by the Conference Board of Canada gave Saskatchewan a "D" grade on overall health, noting that the province has high instances of infant mortality, lower life expectancy, premature mortality, and mortality due to diabetes. Saskatchewan also has one of the highest suicide rates in the country.
According to the Canadian Institute for Health Information (CIHI), Saskatchewan has below-average performance when it comes to three areas: having a regular health-care provider, receiving hip fracture surgeries within 48 hours of injury, and self-harm hospitalizations. Out of 14 indicators of health status, Saskatchewan receives a below-average performance rating for eight of those indicators.
As the birthplace of medicare, Saskatchewan residents should be concerned with both the increase of for-profit health care options and the low quality of health-care outcomes.
Are the negative outcomes the result of the Sask Party's pivot toward privatized health-care services? There is data to suggest so. The party launched a private MRI program in 2016 and has been increasingly privatizing health care since. Intended to help lower wait times, the for-profit route has done the opposite. Wait times for an MRI have increased by 63 per cent since 2016 and the federal government recently took back nearly $750,000 in health transfers due to patients being charged for medically necessary diagnostic imaging services.
In October 2020, the Sask Party issued a press release reminding Saskatchewan residents about the NDP's history on health care, specifically highlighting the closure of 52 hospitals and the loss of 450 nurses and 173 doctors. Yet at the legislative assembly sitting on June 25, 2020, Premier Scott Moe spoke of the Sask Party's willingness to pursue privatized, for-profit health care, saying, "over the course of the last number of years, we have been open to looking at [...] opportunities [...] when it comes to some of our surgical capacity here in Saskatchewan. [...] This has led us to some of the private diagnostic systems that we have as well as some of the private surgeries that we offer within the public health care system."
As the birthplace of medicare, Saskatchewan residents should be concerned with both the increase of for-profit health care options and the low quality of health-care outcomes. Studies have found that for-profit options often don't deliver faster services, can be linked to higher mortality rates, and can worsen the problems facing public health-care services.
Paid sick days provide savings to businesses, health care
Although austerity is often about cutting existing services, what about the initiatives that never came to fruition because the government said there wasn't enough money available?
In May 2022, the Sask Party defeated the NDP-proposed Bill 606, which would have given all Saskatchewan workers 10 days of paid sick leave a year. The Sask Party reasoned that mandatory sick leave would cost employers too much; however, a 2021 study from The Centre for Future Work in British Columbia found that the average cost to businesses would be 0.21 per cent, which the study said is, "too small to make any measurable difference to the overall cost and profitability of business." While this study was focused on a similar B.C. government policy, its findings provide evidence that can also be applied to Saskatchewan's proposed sick leave policy.
The benefits of paid sick leave would vastly outweigh most costs. Overall, employees tend to perform better, increase their productivity, injure themselves less often, return to work more quickly, are more likely to stay at their job, avoid burnout, and are less likely to develop chronic illnesses and suffer from mental health issues. Paid sick days also positively impact health-care spending by reducing unneeded emergency room visits and improving preventative care. By simply providing sick days, the province could reduce the demand on the health-care system, which in turn improves the quality of health care everyone receives and lowers long-term health care spending.
No service is an island
Conversations about the impact of austerity on different public services often take place in isolation from one another, as if each service is independent from the others. Society doesn't work like that. These services are puzzle pieces that need to work together to create a functioning province.
It's dangerous to gauge the worthiness of a service simply by numbers – whether by the number of people who use it or by how profitable it is. Many public services will never turn a profit, but they're necessary components of our societal infrastructure and too important for us not to fund them.
In 2016, Simon Enoch of the Saskatchewan office of the Canadian Centre for Policy Alternatives wrote, "austerity measures undertaken during an economic downturn have the perverse effect of prolonging economic stagnation, increasing unemployment, exacerbating deficits, and hindering economic recovery." Austerity doesn't put savings into our accounts. Austerity does not inspire growth or greatness but demands we dream smaller and narrower because austerity is never satisfied. It will always find more to cut away.