Help Sask Dispatch create more and better independent journalism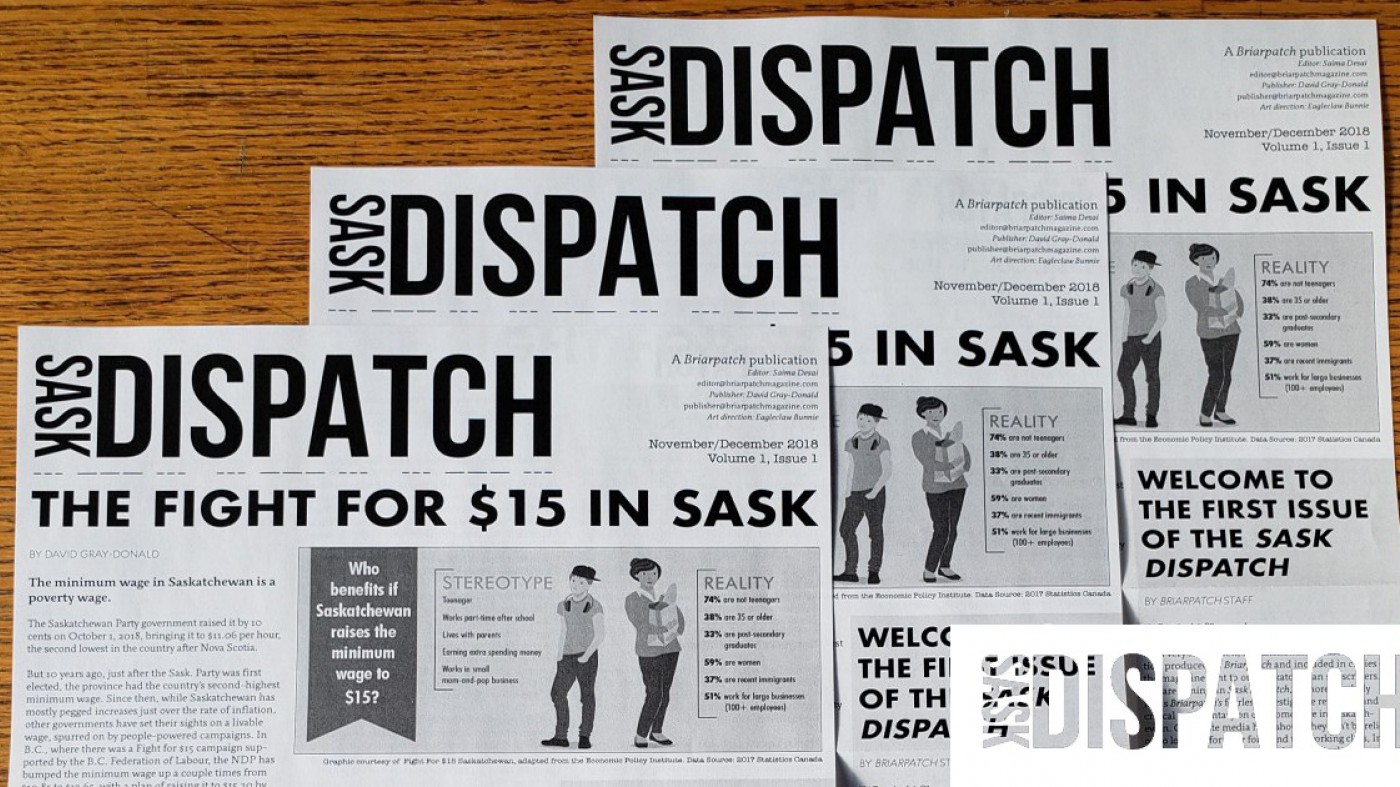 For the past two years, our fiercely independent team has produced a bi-monthly paper dedicated to telling the stories that matter to you. We've taken great pride in providing a platform for the anti-colonial, anti-capitalist, and leftist perspectives that are all but completely ignored by mainstream coverage of our province.
The Sask Dispatch is ready to do more, but we need your help.
We've heard directly from you that there is a persistent and significant lack of reporting on systemic issues that underpin the daily headlines. We cover news happening outside of the Legislature and City Hall, reporting on grassroots, alternative solutions to political problems.
We value solutions-driven journalism that looks for answers outside the box, written by independent local journalists who live in - and love - the communities we're reporting on.
Since we first launched, we're proud of the work we've done, including stories about:
First Nations and Métis people resisting clear-cutting in Saskatchewan's northern forests, the corporatization of Saskatchewan's co-ops, and the lack of supports for criminalized youth in the justice system.
We've done it all on a shoestring budget – right now, the Dispatch is created off the side of our desks at Briarpatch. But we want to do more. We're ready to do more. We know we need to do more.
In talking with readers across the province, we've realized that there's a need for regular analysis of Saskatchewan news stories that comes from a leftist perspective.
This is where you come in.
We're committed to keeping the Dispatch free for everyone, but we're asking those who can help us continue our mission of creating high-quality, consistent, trustworthy independent journalism in Saskatchewan, to do so.
We are seeking 100 Founding Members - passionate, solutions-focused community members who love this province just as much as we do with the financial means to support - to help us launch our new weekly newsletter.
If we reach our goal, we'll be launching a brand-new website that will have all of our reporting and a one-stop hub where you can get info about all the grassroots events and organizing happening in the province so you never miss a chance to get involved. And in addition to the in-depth, long-form investigative reporting you love, we're developing a newsletter that will bring trustworthy analysis of Saskatchewan stories straight to your email inbox each week.
If you value the work we've been producing and want to see more of it, then please consider becoming a Founding Member by clicking this link. Thank you so much.