"A culture of perpetration": what's behind sexual violence in Saskatchewan
New report says settler colonialism, poverty, and "violent masculinities" underlying province's high rates of sexual violence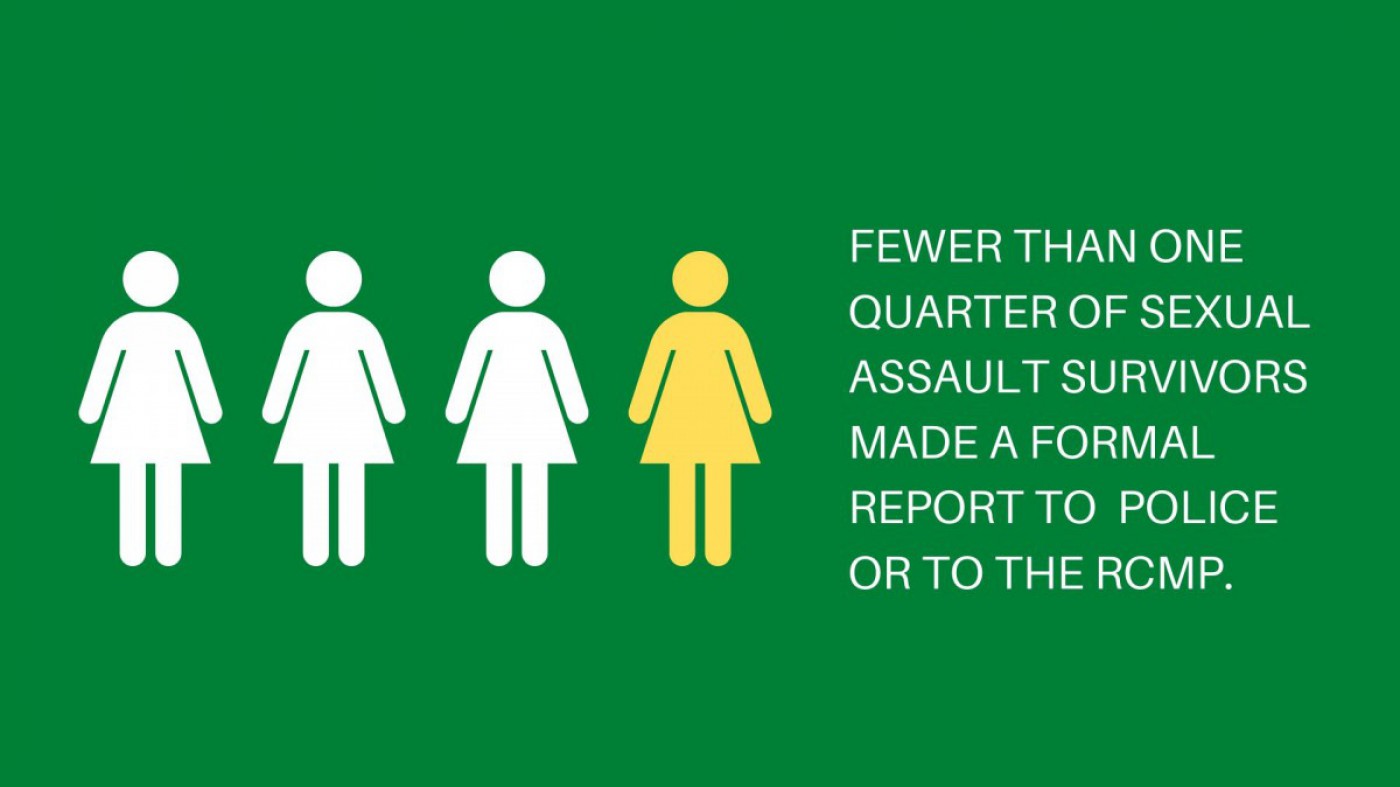 On April 29 Sexual Assault Services of Saskatchewan (SASS) released a report titled "Sexual Violence in Saskatchewan: Voices, Stories, Insights and Actions from the Front Lines." The report is the final piece in a three-year long project. SASS has 13 member agencies across the province that provide trauma-informed crisis and long-term counselling for survivors of sexual assault. While Saskatchewan has some of the highest rates of sexual violence in the country, with 104 reported sexual assaults per 100,000 people, it's the last province in the country to develop a sexual violence plan. According to Patience Umereweneza, the project coordinator for SASS, together with the Community-University Institute for Social Research (CUISR), "we're working to change that."
The report is meant to supplement the 22-step province-wide sexual violence plan that SASS released in May 2019, as well as "provide evidence that not only supports an effective sexual assault action plan for Saskatchewan, but one that can begin to redress the depths of ongoing institutional and structural violence" in the province. The authors note that "many participants explicitly demanded that this report not be left to languish on a legislative shelf" like so many others. 1,033 survivors of sexual assault participated, and researchers held focus groups in 22 communities across Saskatchewan.
The authors note that "many participants explicitly demanded that this report not be left to languish on a legislative shelf" like so many others.
Systemic factors
The project's findings reveal a province in which systemic factors like settler colonialism, "violent masculinities," a lack of public transportation, and high rates of poverty converge to reduce survivors' access to post-assault supports.
31 per cent of respondents who sought professional help following a sexual assault reported that they had to leave their home community in order to do so. Some survivors reported being trapped in the community where their assault occurred. According to the report, "the summary removal of public transportation systems as an avenue for escape" means that survivors without access to a vehicle must disclose to their band council or the government their reasons for needing to leave the community and receive approval before they can access treatment. For some survivors, especially those who want to protect their anonymity or avoid retaliation by the perpetrator and the perpetrator's supporters, this is an insurmountable obstacle to accessing care.
The authors of the report noted that Saskatchewan's resource-based economy plays a large role in perpetuating the misogynistic and racist attitudes that are behind sexual violence. "Mining, farming, and the oil, gas, and uranium energy sectors have long played a symbolic role in shaping masculinities in our province, and a material role in shaping economic structures where white men make money, white women are economically dependent on them, and Indigenous peoples and more recent immigrants are systematically marginalized and/or exploited," the report's authors explain. They add that the economies and communities of agriculture and resource extraction "revolve around the reproduction of masculine values through formal and informal networks that explicitly exclude women, occupational values that centre on masculinity." Many Indigenous feminists have noted the parallels between resource extraction's violence to the land, and extraction workers' violence against women – the 2019 National Inquiry on Missing and Murdered Indigenous Women and Girls found, for instance, that "work camps, or 'man camps,' associated with the resource extraction industry are implicated in higher rates of violence against Indigenous women at the camps and in the neighbouring communities."
In some communities in the province – particularly in the north, where accessing any kind of medical service is challenging – sexual violence is inextricably linked with with poverty and the ongoing colonial violence of the Indian Act. The report's authors note that in some remote communities, nine out of 10 women and perpetrators have been the victims of sexual violence. They point to overcrowded housing, sexual violence in the prison system, and "Canada's long-standing history of systemic, gendered, and racialized settler colonial violence" as some of the factors contributing to sexual violence in these regions. Rates of sexual assault are 3.5 per cent higher for Indigenous women than for non-Indigenous women.
According to the report, "women, girls and non-binary individuals account for the majority of victims of sexual violence, while men account for the majority of perpetrators." 92 per cent of primary survivors (individuals who have experienced sexual violence firsthand) who participated identified as female, 0.9 per cent identified as transgender, and 1.3 percent identified as Two-Spirit. The remaining 13 per cent of primary survivors were male. The report described Saskatchewan as a province deeply invested in perpetuating "rigid gender binaries," which elevates the risk of violence against women and 2SLGBTQ+ individuals. Among the report's recommendations was a province-wide update of systems, like drop-down menus on government sites, to provide trans, non-binary, Two-Spirit, and agender people with options besides "Male" and "Female." The report notes that this will help prevent the compounding trauma of being misgendered while seeking medical help.
According to one survivor, "the police are part of a broken state that perpetuates patriarchy and rape culture."
Police and criminal justice
According to the report, although 71 per cent of primary survivors disclosed their assault(s) to someone, less than one quarter reported their assault to the police, for a variety of reasons. Those reasons included fear of not being believed, fear of being blamed for the assault, shame and embarrassment, fear of retaliation, anonymity concerns, lack of trust in law enforcement's ability to handle sexual assault cases, and fear of the criminal court process. According to one survivor, "the police are part of a broken state that perpetuates patriarchy and rape culture." Another respondent who did report to law enforcement said, "I regret going to the police 100% […] The whole experience was degrading, shaming, and left me feeling even more hopeless." Troublingly, some respondents reported not being aware that the violence perpetrated against them was even a crime.
More than half of those who did turn to police and the criminal justice system reported dissatisfaction with the services they received. According to the report's authors, "survivors reported difficulties from the moment they stepped into detachments and police stations." They added that it was "disconcerting" to hear more concern from law enforcement about false reporting of sexual assaults than about the real prevalence of sexual violence in Saskatchewan. One officer told researchers, "I had a complainant come in and disclose sexual abuse and it was at a party, after party, blah blah blah blah blah." This officer ultimately told the prosecutor in the case that the police would not investigate the report at all, telling researchers that the allegation "could've really screwed up" the alleged perpetrator's life. In Saskatchewan up to 41 per cent of sexual assault allegations are dismissed as "unfounded." The report notes that allegations that are determined to be unfounded are less likely to be accompanied by evidence of a thorough police investigation, including interviews with witnesses and suspects.
Some survivors reported that the criminal justice system was callous and arduous to the point that they felt revictimized by the process. "Frivolous" court date extensions are common, leading to trials that can drag on for years, and everyone from court staff and the police to lawyers and judges lack the skills and training necessary to ensure victims of sexual violence are not retraumatized while seeking redress. One survivor said, "in order to be part of the solution, institutions need to stop being part of the problem." Another survivor said that the "people working [in the courts] were valuable and doing a great job [...] but the province is failing to provide enough support staff to properly manage such a delicate department and this is re-victimizing victims by being unprepared and inadequately funded. Shame on the province." In recent years, the Sask Party government has made deep cuts to the justice system, including cutting millions from alternative measures programs and the Aboriginal court worker program and laying off support staff and leaving positions for lawyers unfilled at Legal Aid in 2018.
Everyone from court staff and the police to lawyers and judges lack the skills and training necessary to ensure victims of sexual violence are not retraumatized while seeking redress.
Although it's been found that police and courts mishandle cases of gendered violence across the country, Saskatchewan should take particular note of how its criminal justice system treats the survivors of sexual violence. According to the report, "in contexts where professional roles are masculinized" – like Saskatchewan – "sexual violence may operate as a mechanism for asserting male authority and for keeping women 'in their place.'" Under this view, sexual violence is seen not as a crime but as a tool; it doesn't need to be met with justice because it is justice.
Healthcare and hospitals
The problems don't end with the justice system. The complete absence of provincial care protocols for sexual assault survivors presenting in medical facilities means that survivors who did seek medical treatment in the aftermath of their assault had wildly varying experiences.
Those who were satisfied with the medical care they received reported that doctors and nurses were compassionate, gentle, and non-judgemental. Those who had negative experiences reported problematic triage and intake procedures, waiting for hours in the emergency room because sexual assault injuries are not considered critical, and a lack of referrals for follow-up care. Some reported leaving before they were seen by medical personnel, and others in small communities reported being discouraged from obtaining a forensic evaluation because it would be too time-consuming.
Many survivors reported being sent home in a hospital gown after having to turn over their clothing for the forensic kit. Regina was the only place in Saskatchewan where survivors who endured a forensic evaluation were given clean clothes to go home in. One rural survivor told researchers that "the victim-blaming in rural hospitals is out of control." Inadequate and non-affirming care is particularly concerning because literature shows that for survivors, all the events leading up to, during, and immediately following the assault are considered to be a part of the assault. According to the report, "the treatment survivors receive in medical facilities can directly impact survivors' healing trajectory."
The report's recommendations are comprehensive and ambitious. The work of implementing them should begin immediately. But the report itself is bleak.
A way forward
To combat these issues, the report calls on the province to "develop programs which consider the broader context of colonization and its continued expression through current modes of service provision and their relationships with and dependence upon masculinist professional and trades cultures." The authors stressed the need for greater access to online supports for survivors, particularly those who are disabled, living in rural areas, transient, and whose work and family obligations limit the time they have to access support outside the home.
Respondents and service providers alike stressed the need for more education for the public, for service providers, and for survivors and their families. That includes sexual assault-specific training for service providers, mandatory trauma-informed care training for law enforcement and health care professionals, as well as programming and campaigns to reduce the stigma that often accompanies sexual violence. Safe, reliable public transit to ensure that survivors and their loved ones can access care outside their communities is also critical. Since the Sask Party's elimination of the Saskatchewan Transportation Company (STC) in 2017, a lack of public transit can also mean that survivors are unable to leave abusive situations, leaving them trapped in a cycle of violence, and putting their lives at risk.
The report's recommendations are comprehensive and ambitious. The work of implementing them should begin immediately. But the report itself is bleak. It shows a province where misogyny, settler colonialism, and heteropatriarchy are not just the root but the soil. Violence against women, Indigenous people, and 2SLGBTQ+ people is the inevitable product of a province where Indigenous lands were seized, Indigenous peoples were displaced, and a culture and economy was built around resource extraction and capital development. To halt that violence, we need to set our sights not just on better programs and services, but on deep, structural changes at every level of our society, our culture, and our economy.