How progressives won the Sask municipal elections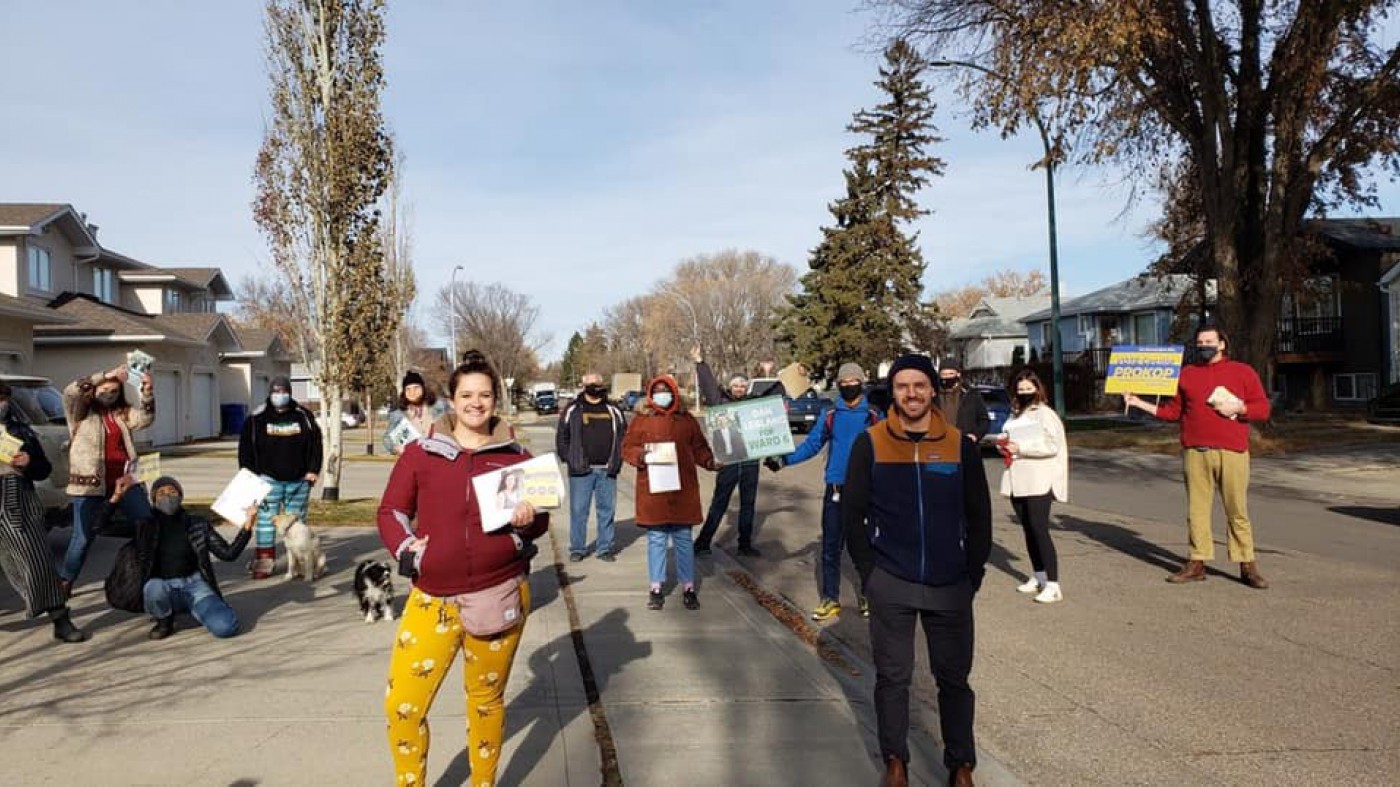 "Soooo fucking great, they saved 2020!"
After a bleak provincial election (and a bleak year overall) that saw the Sask Party win their fourth consecutive majority, progressives in Saskatchewan pinned their hopes on the November 2020 municipal elections, in which they had poured in significant resources and the prospects were brighter. Their efforts were rewarded, and as the results began to roll in on November 9, social media lit up with comments from ecstatic election watchers. "This will be huge for our city!" wrote one Regina resident who watched as the city's council went from a single progressive to five. And it wasn't just Regina. Saskatchewan's four largest municipalities welcomed progressive city councillors and school board trustees, voting for candidates who had campaigned on platform promises like defunding the police, transitioning toward 100 per cent renewable cities, and ending homelessness.
In a province where a right-wing government has won four back-to-back provincial elections, those left-wing wins didn't come out of nowhere. It takes strategy and effort to put progressives in leadership roles. Much of that organizing was done by the Canadian Labour Congress (CLC) in conjunction with regional labour councils, as well as by local organizers committed to social justice. Their successes – labour-endorsed candidates won in Regina, Saskatoon, Moose Jaw, Swift Current, and Prince Albert – and the challenges they and their candidates faced offer a guide for people who want to build more just and sustainable municipalities, even within an (apparent) conservative stronghold.
In a province where a right-wing government has won four back-to-back provincial elections, those left-wing wins didn't come out of nowhere.
Everyone who spoke to the Sask Dispatch about their experience organizing on municipal campaigns emphasized the importance of starting early and providing an educational foundation for candidates to build on. "A year and a half before the election, we worked to identify what we felt were wards and subdivisions that were winnable by progressives," says Deanna Ogle, the regional representative for the Canadian Labour Congress (CLC), adding that they analyzed voting patterns in federal, provincial, and local elections. "Once we had an understanding of that landscape, it was about identifying candidates for winnable wards and subdivisions. We came up with folks who had expressed interest in running and we also went out and looked for people who were interested in running for school board or council."
Ogle says that in addition to identifying candidates, they ran an "extensive" training program for both candidates and their campaign managers. "One thing that often gets overlooked is campaign managers. You can't just build the capacity for a candidate to run, you have to build the infrastructure to support the candidate to be successful," Ogle insists. "They need to have their own training in capacity building.… They need to have an understanding of fundraising, they need to have an understanding of their ward or subdivision. And then they need to have training in how to do the outreach work that you need to do in order to win."
It's not that labour hasn't backed candidates before. But this time around, they changed their approach. Like labour councils in other cities, the Regina and District Labour Council (RDLC) worked alongside the CLC to develop a comprehensive campaign strategy for progressives. Shobna Radons, president of the RDLC, says that one important change they made when choosing to endorse and support a candidate was to evaluate whether there was a real possibility that they could be successful. (Radons is a Briarpatch board member.) She shares that in the past, the labour council ended up investing resources in candidates who had progressive values but never stood much of a chance of winning, with or without the backing of labour. "This time around, the candidates we had were amazing candidates in that they were progressive, their values lined up with ours, and they had a real chance at winning," she says.
"A year and a half before the election, we worked to identify what we felt were wards and subdivisions that were winnable by progressives."
That choice meant that there were progressive candidates who were not endorsed by labour because they were running in a ward that was considered unwinnable. "We didn't endorse candidates we didn't think could win," Radons says. Others, like Regina Public School Board candidates Lacey Weekes and Ted Jaleta, were considered "labour-friendly" but didn't seek the labour endorsement. They both won in their subdivisions.
Tria Donaldson, who managed progressive Regina city councillor Andrew Stevens' successful campaign in 2016 and was deeply involved in organizing efforts for Regina's 2020 election, insists that that focused, early effort is worthwhile, since having even one progressive city councillor can make all the difference. She first got involved with municipal politics after progressives suffered a narrow defeat in a 2013 referendum over whether to adopt a P3 model for the city's wastewater treatment plant. "If we had had just one person on city council speaking up about [the wastewater treatment plant], we probably could have won," Donaldson observes. She says the importance of organizing at the level of municipalities and school boards can't be overstated. "Almost every issue that people care about on the left connects to municipal issues. Whether it's transportation, environment, homelessness, all of these things can have a difference at a municipal level."
But building the capacity to run one, much less several, progressives for city council has taken years of organizing. Even just four years ago, when Stevens became the then-sole progressive on Regina's city council, "there wasn't a lot of capacity in terms of folks that actually had the skills to run an effective municipal campaign," Donaldson explains. She says that this time around, "myself and the other folks involved in organizing focused on finding strong candidates and finding candidates early." She notes that in the past, labour endorsements didn't necessarily come with the support necessary, which may be part of the reason that some candidates chose to run without one. "It's an accurate fact that labour is perceived poorly. I think that this year, the labour movement was very good at offering tangible support, but generally, if it's not coming with support, the labour stamp isn't necessarily the most useful." Darin Milo, vice-president of the RDLC (and a Briarpatch board member), goes further, pointing out that "there was critique of the labour movement from BLM in Regina" for the movement's failure to show up in a meaningful way for racial justice. He maintains that if labour expects people – especially racialized people – to vote labour and run under the labour banner, "you need to show up in the three years between elections."
"Almost every issue that people care about on the left connects to municipal issues. Whether it's transportation, environment, homelessness, all of these things can have a difference at a municipal level."
Building capacity and providing support is even more important for working-class, BIPOC, disabled, 2SLGBTQ+, and women candidates, who face a host of challenges that wealthy, white, able-bodied, straight, cisgender, and male candidates don't experience. And for organizers who are genuinely committed to equity, that means starting before a candidate is even a candidate. "There's a saying in political circles that if you want a woman candidate to run, you need to ask her three times as much as a male candidate," Donaldson shares. "The biggest thing I hear, especially from women, is, 'I'm not qualified.'" Organizers who want to see candidates from marginalized communities run – and win – need to recognize those barriers, both real and perceived, and be prepared to break through them.
Donaldson says she and Ogle provided tangible supports, like setting up candidates' websites and data collection systems, managing their social media, designing and distributing leaflets, arranging printing services, and managing supplies. But, especially when it came to marginalized candidates, the tasks expanded beyond what some might consider traditional campaign management. "You need to shield your candidates from some of [the bigotry]," Donaldson says. "It's not the job of your racialized candidate to push back against racist trolls on social media. If we want people to be stepping up to run, allies need to be stepping up to take the brunt of that head on." Creating that network of support needs to be at the forefront of organizers' minds when they start preparing for a campaign. "You need to make sure that [candidates] have a team around them. Part of it is identifying people that might want to run, but you also need to make sure that the people there have people around them, that they feel supported. So this time we focused on not just identifying candidates, but working with those people to identify a team for them."
Beyond dealing with racist vitriol, candidates from oppressed groups, particularly trans and racialized candidates, face practical challenges right up to the ballot box. "Saskatchewan, like every other province in Canada, has a racism problem," Ogle says. "Candidates face that. They face that on the doorstep, they face that in fundraising, they face that in access to a lot of the supports that other candidates may already have." She adds that the challenges ripple outward, affecting the kinds of support candidates can rely upon. "A candidate who comes from a more middle-class background can call up their community and say, 'can you donate?' and their community can," she adds. "If you're a candidate – like most racialized candidates – that comes from a working-class background, the very structures of pay inequality and wage gaps mean you're less likely to have access to those fundraising connections. And we know that folks whose names don't sound white have a harder time even getting a job interview. That also translates on ballots."
"There's a saying in political circles that if you want a woman candidate to run, you need to ask her three times as much as a male candidate."
Milo says that the labour movement isn't doing the work necessary outside of campaign season to convince candidates from marginalized groups that labour is on their side. "If there was more of an outreach by the labour movement towards these candidates, you would see a lot more candidates running to seek the labour council endorsement." Only three of the 20 labour-endorsed candidates in any of the council elections were racialized – one of them was Radons, who ran in Regina's Ward 7. Of those three, only one, Tony Head, an Indigenous man from Prince Albert, won their race. "Everyone recognizes [that minority candidates] face more obstacles in trying to get elected, but the support is not there," Milo explains. "When privileged candidates are getting more support than minority candidates who need that support, that's been an ongoing issue and it's something that really hasn't been addressed."
Now that the seats have been won, progressives are looking to make sure the momentum doesn't stop there. "The next step for us is: how do we build accountability into our structures? Now that we've got these progressives elected, how do we hold them accountable? And part of that accountability is not just 'what can they do as electeds to advance some of the important issues that council faces?' but 'how can they use their position to ensure that others are lifted up as well?'" says Ogle. "There's an obligation on electeds, in my view, not just to get themselves elected, but to ensure that they're supporting equity candidates in getting elected next time."
Donaldson says that now that progressives have been designated, the left will need to continue to organize and build capacity to ensure that the pressure remains on councillors and school board members to enact the policies on which they were elected. "For me, the most important thing is making sure the folks we did get elected are following through with their promises. It's no good electing progressives anywhere unless they can actually implement a progressive agenda," she says. "If we're not ready to fight the fight around living wages or sanctuary cities or decriminalizing drugs, if the left isn't ready, it's harder for politicians to move forward because the right is going to be there and is ready to push back."
"We do have a huge opportunity here but people aren't going to vote for change again if we can't deliver that."
The recent example of Regina City Council is illustrative: in January, councillor Dan LeBlanc proposed an amendment barring fossil fuel companies from advertising on or buying naming rights for city property. He was immediately met with massive blowback from the fossil fuel industry and their supporters – which included threats of physical harm and Premier Scott Moe saying he would retaliate by clawing back millions of dollars of the city's funding. LeBlanc and six other councillors who initially voted in favour of the amendment were forced to back down – they didn't have enough support from the residents in their wards to weather the coordinated backlash.
The consequences for failing to build this grassroots leftist support are huge. "It can lead to more demoralization or believing that politics doesn't matter when you do elect people [and] you're hoping to get a progressive change but nothing changes," Donaldson says. "We do have a huge opportunity here but people aren't going to vote for change again if we can't deliver that."
Ogle agrees, and she adds that part of it is building what she calls "civic literacy" by teaching members of the public that they have the power to make demands of their leaders and hold them accountable when they don't deliver. "People express frustration and a lot of us as progressives are disappointed in our elected leaders," she says. "The question is: how do we express that disappointment and how do we turn that disappointment into actual on-the-ground movements for change?"
But there's plenty of cause for optimism. "Something that's absolutely achievable is to set a goal of getting progressives elected and then to do the work to organize to make that happen," Ogle asserts. "This isn't an exception. This is absolutely achievable."