Decolonizing Relations on Treaty 4 territory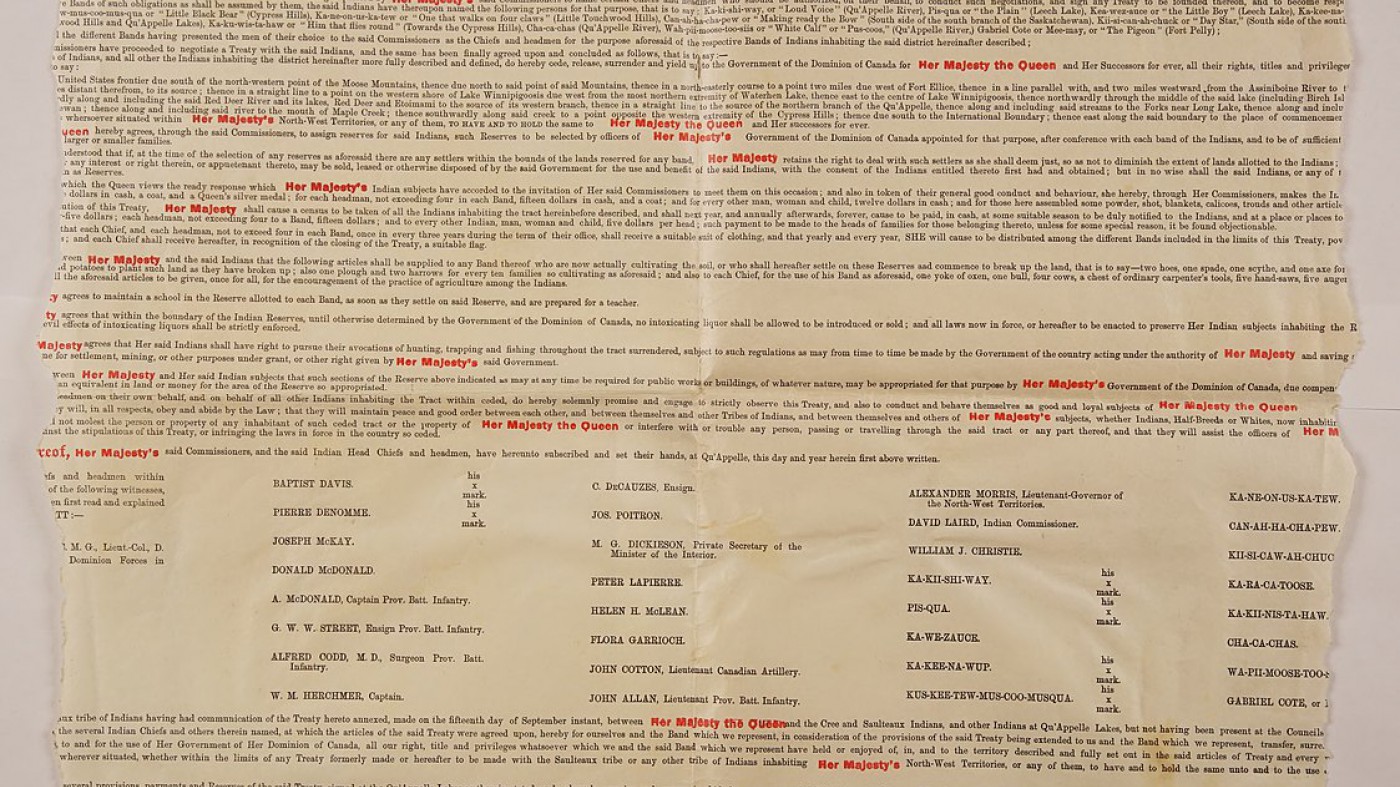 This article was created as part of a package of writing to accompany Human Capital, an exhibit at the MacKenzie Art Gallery in Regina. View the full package here.
Both Briarpatch Magazine and the MacKenzie Art Gallery are based in Regina, on Treaty 4 territory. This is the land of the nêhiyawak (Cree), Anihšināpēk (Saulteaux), Dakota, Lakota, and Nakoda Peoples, and the homeland of Métis Nation. We take our responsibilities to the people of this territory seriously. So when we began planning the writing that would accompany Human Capital, we wanted to hear from the people who live on Treaty 4 territory about their own experiences with migration and work.
One of the activist groups working to build solidarity between Indigenous people, racialized immigrants, and white settlers in Treaty 4 is Decolonizing Relations. Over the past couple years, the group has been campaigning hard to change the name of Regina's Dewdney Avenue. The street is currently named after Edgar Dewdney, the Indian Commissioner and lieutenant governor of Saskatchewan who oversaw the starvation campaign against the Plains people and the execution of Louis Riel and eight other warriors of the North-West Resistance. The group has proposed the street's name be changed to Buffalo Avenue, to honour the importance of the buffalo to the region for millennia before colonization.
To mount a strong challenge to the forces of colonialism, imperialism, capitalism, and racism, we'll need to form connections between Indigenous Peoples, racialized immigrants, and white settlers, like Decolonizing Relations is doing.
Members of Decolonizing Relations see Canada's treatment of migrants as continuous with its homegrown colonialism. "Canada not only practices colonialism at home on stolen Indigenous lands, it also practices it in the Global South," Florence Stratton, who organizes with the group, explains.
"Canadian corporations invest in these countries, not for the benefit of the citizens of the countries, but for the benefit of a small number of wealthy Canadians who own a lot of capital," she says. "Currently Canada is a superpower in the global mining industry, with 75 per cent of the world's mining companies headquartered in Canada. In 2018, the Canadian mining industry contributed $97 billion to Canada's gross domestic product. To borrow a line from Tyler Shipley's new book, Canada In The World, 'Canada is making people's lives miserable around the world.' And that is why migrant workers come to Canada."
To mount a strong challenge to the forces of colonialism, imperialism, capitalism, and racism, we'll need to form connections between Indigenous Peoples, racialized immigrants, and white settlers, like Decolonizing Relations is doing. For this roundtable, Briarpatch's editor Saima Desai asked some of the members of Decolonizing Relations three questions: What is your relationship to land on Treaty 4 territory? What kind of work have you done here? And what does "decolonizing relations" mean to you?
Participants
Joely BigEagle-Kequahtooway is a writer, fashion and textile designer, visual artist, and co-founder of the Buffalo People Arts Institute. She comes from a long line of buffalo hunters and is Nakota/Cree/Saulteaux from the White Bear First Nations, a signatory to Treaty 4. She has degrees in civil engineering from the University of Calgary, and in mathematics from the First Nations University of Canada.
Yordanos Tesfamariam has made Treaty 4 territory her home since her immigration in 1998 from Eritrea. Since 2004, her work and community activism have involved issues affecting youth, women, seniors, and families of immigrants and refugees. She is the education and BRIDGES coordinator of the Multicultural Council of Saskatchewan.
Mirtha Rivera was born in Santiago, Chile. She came to Saskatchewan as a political refugee in 1975, after the military coup of September 11, 1973. She is the mother of two grown men and lives with her partner of 30-plus years. She is active in social justice struggles and queer rights.
Lisa Odle is the mother of three 20-something children. She lives in a biracial marriage and is currently coordinating the Righting Relations Regina Circle. She is the anti-racism coordinator of the Multicultural Council of Saskatchewan and sits on the board of the Regina Multicultural Council.
Florence Stratton is a community activist who lives with gratitude to and in solidarity with the Original Peoples of Treaty 4 – nêhiyawak, Anihšināpēk, Dakota, Lakota, and Nakoda – as well as with the Métis Nation whose homeland it is.
Discussion
What is your relationship to land on Treaty 4 territory?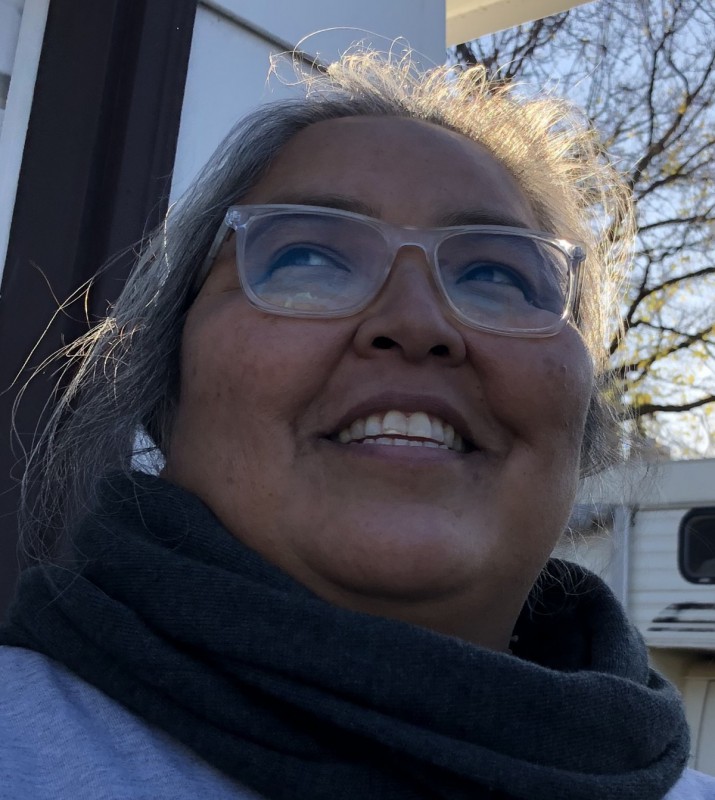 JBEK I was born in B.C., but my mom and dad are both from White Bear First Nations in Treaty 4, and I moved back to Saskatchewan when I was about three. I never really had a connection to the land because I was raised in urban settings, but when I was about 14, my mom took us back to White Bear. It was then I started to understand more of what it meant to be connected to the land.
When you talk about being connected to the land, and you look at the map of Saskatchewan, it's all treaty land. There's not one single white point on the map because it's all different colours according to Treaties 2, 4, 5, 6, 7, 8, and 10. We signed treaties to keep the peace between Indigenous Peoples and settlers. But sometimes I wonder: if there ever comes a time when we Indigenous Peoples say, 'You know what, the treaties have never been upheld so we want to cancel them. We want to nullify them, we want to sever ties' – what would that mean for everybody else? Would that even be plausible at this point?
Growing up, I didn't know that my mother went to residential school. I wasn't taught about the reservation system, the Indian Act, treaties, the pass system, or the fact that my people were starved and barred from voting until the '60s. When I started to find out about what happened to my ancestors, I was angry. I was really angry. And I wished that everybody would just go home, and that we were just left to live on the land again, like my ancestors had for millennia. Since then, I've been trying to come back from that mindset, and trying to find a balance within my community – welcoming different people to the community and not always feeling like I had to be in defensive mode.
The questions I am left asking are: how do we share this land peacefully, like the treaties say? How do we share the land peacefully, but also sustainably, so there are enough resources for everybody?
YT I've lived in Treaty 4 territory since 1998, and my brother and I originally came from Eritrea. Like Joely, I grew up in the city back home in Eritrea. Only once have I visited the place where my grandfather and grandmother originally came from.
People are always asking me, 'How did you come to Regina and why did you choose Regina?' In the late '80s my aunt moved to Canada from Italy, and at that time she was given a choice to live anywhere in Canada. But she didn't have any family members living in Canada, so when they asked, "What part of Canada do you want to go to?" she said, "Anywhere." For anybody who said "Anywhere," they sent them to Saskatchewan. Then my aunt sponsored my mom, and she came here in '93. So that's how I'm connected to the land – it's through family ties.
When I was coming to Canada, I knew I was coming to white country. It was only four or five years later, in a sociology class in university, that I actually started learning about Indigenous Peoples. Prior to that I believed that Canada was a white nation – which is what ongoing colonization has done to Canada. Since I came to Canada in '98, it's still the same – the people in power are primarily white settlers. But in recent years, I came to learn more and more about Treaty 4 territory and the treaty relationship.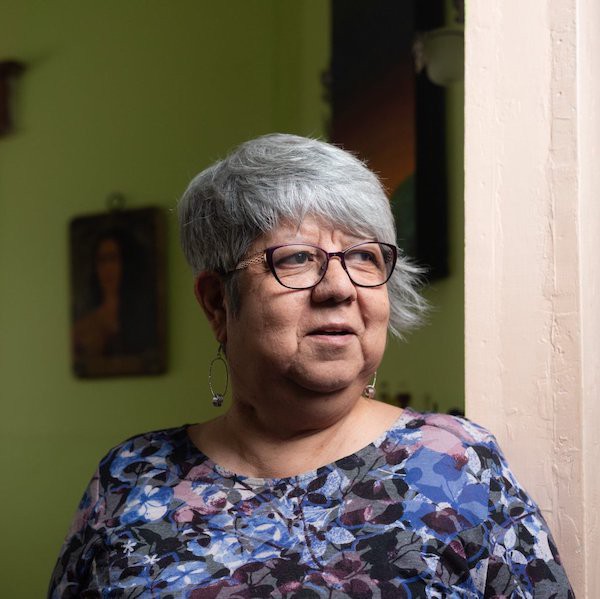 MR Even though I grew up in a city, I always had my own lands, my own herbs, my own things in the backyard. So I have that connection because my Indigenous grandmother from over there in Chile, she made sure that I knew how to plant, and what to plant when. She taught me how to predict storms by looking at the birds – things like that.
When I came to Canada, I came as a political refugee from Chile. I didn't have any idea where I was coming to, and I didn't have a choice. I was just put on a plane and told, "You're going to Regina, Saskatchewan," which I wasn't able to pronounce because I didn't speak English. And then they put me and my three-year-old son in a hotel room. Not speaking the language, not knowing anybody, I started going outside. I almost froze to death, because it was November, and where I came from it was summer.
Coming to Canada was a really painful experience, because I was cut off from my land in Chile. My roots were over there, but my body was over here. I had to build myself up from that. My idea was to find people like me, people who would understand and respect what nature was giving us. So I was lucky to find friends who are Indigenous, and they taught me a lot. There's not much difference between what I learned from my grandma and what the teachings are here.
I came to Canada without knowing, really, what the definition of racism is, and how racism affects people. Then one day on the bus, somebody insulted me by calling me a "stupid Indian." I didn't understand the language, but I understood. That person spit on the floor beside me and my child. I suddenly became really aware that I was not welcome by a certain group of people. Others would warn me – I'm going to be really blunt – that "Indians" were all thieves, were all criminals, all carry knives, and would kill me for anything they wanted from me. When I was growing up, my mother called me an Indian as an insult when I did something wrong. I guess that's why I became closer to Indigenous people, and learned really fast what racism and discrimination was – even though it was at work all the time, I didn't initially see it.
What's your relationship to labour on Treaty 4 territory? What kind of work have you done here? How has that been impacted by your identity as an Indigenous person, a settler, an immigrant, or a refugee?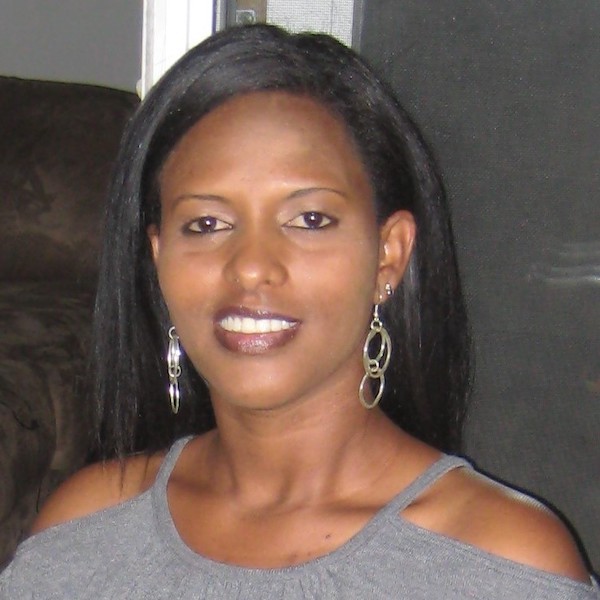 YT My first job was working as a housekeeper. After that, I worked at the Regina Immigrant Women Centre, the Regina Open Door Society, and now the Multicultural Council of Saskatchewan. So my identity, as an immigrant, has shaped the work I choose to do. And I use the word choose because not many immigrants have the luxury to choose what work they do. They need to work because they need to feed their families.
There are countries where people can get their professional credentials from their home country accepted, but often Canada doesn't accept credentials from other parts of the world. And that breaks my heart in a lot of ways because, especially for parents with kids to feed, they will do any job they can find. Eritrean immigrants in particular often don't get to choose what work they do. A lot of them work in cleaning, like my mom.
The more I work with immigrants, the more I think that, in a lot of ways, immigrants and Indigenous people are connected – and that the one thing that connects us more than anything else is colonization, because all of us have been impacted by colonization. But a lot of times, the powers that be don't want Indigenous Peoples and immigrants to connect.
Immigrants are working to put food on the table; Indigenous people are going through their own struggles. But we don't come together to share our knowledge, because we are pitted against each other. Indigenous people might say, "Well, immigrants are taking our jobs." It's divide and conquer. The only one who wins is the colonizer, and capitalism is the key. If immigrants here in Canada are not going to do the work, Canada will take the work somewhere else where they can get cheaper labour, right? Capitalism does not put people first, it puts profit first.
JBEK Growing up, we didn't have a lot of money. Everybody had to work, including myself. And so that meant doing chores around the house, but also doing things like picking glass bottles from the ditches. I also used to go pick vegetables in Lumsden Valley. But I wasn't old enough to work legally, so I remember waiting in the car while my parents went in to collect my pay, because I think I was like 12. It was just something I knew was a part of what I did to help our family to live.
A while ago, my daughter worked at Tim Hortons. And she told me, "I don't think I'm being treated right. I don't think it's good pay, I don't like the hours, and people are getting hurt at work. I think I'm going to quit." So she quit. She could afford to do that because she had the resources, and at the time my family had money. But I think of the people who kept working there – who may have been immigrants, who may have had people depending on them bringing home an income, in Canada or in another country. And so those immigrants may have stayed at that job through all the bad working conditions, the low pay and long hours.
A lot of people don't think about the conditions and pressures that immigrants work under. I've had to argue with some of my relatives who are racist – especially after 9/11, there was a lot of prejudice against Muslims. Indigenous people can pick up the same racist talking points that are put out by white nationalists. What's needed to change that is education.
What does "decolonizing relations" mean to you?
MR We chose the name Decolonizing Relations for our group because I don't really like the word "reconciliation." When it's an abusive relationship, what are you going to reconcile?
Before we can even think about reconciliation, we need to have difficult conversations about the truth of what's happening to Indigenous Peoples. We need to face all these issues that are separating us, and be able to speak our own realities and not compete. The mentality that most of us are raised with is, "My pain is bigger than your pain. My experience is worse than your experience." That's what capitalism does, it makes you compete. And you just keep on surviving. And I'm tired of being a survivor – I want to be alive. It's been so good to be in this group, because in Decolonizing Relations, we don't compete – we listen and speak from the heart. We don't avoid those difficult conversations – when we see somebody not understanding, we go there, we take the time. We confront our own and each other's prejudices, but we do it with kindness.
YT Like Mirtha said, I feel that we have jumped over truth in our eagerness to get to reconciliation. It's so uncomfortable to hear the truth, that non-Indigenous people would like to move into reconciliation right away. But we need to sit with that discomfort and say "What's going on right now, and what can we do about it?"
For me, what was mind-blowing was learning about the crisis of Missing and Murdered Indigenous Women and Girls. I thought, "This is happening right here in Canada, and there is no outcry?" And when Colten Boushie was killed, I read the racist comments some farmers posted on Facebook about him, and felt the same way.
To me, the word decolonization reminds us that Canada's colonization is still ongoing, and it tasks us with ending the ongoing injustices against Indigenous Peoples. To the question of how immigrants and Indigenous Peoples can work together: it's up to all of us to build relationships, to see each other as human beings, and to respect each other.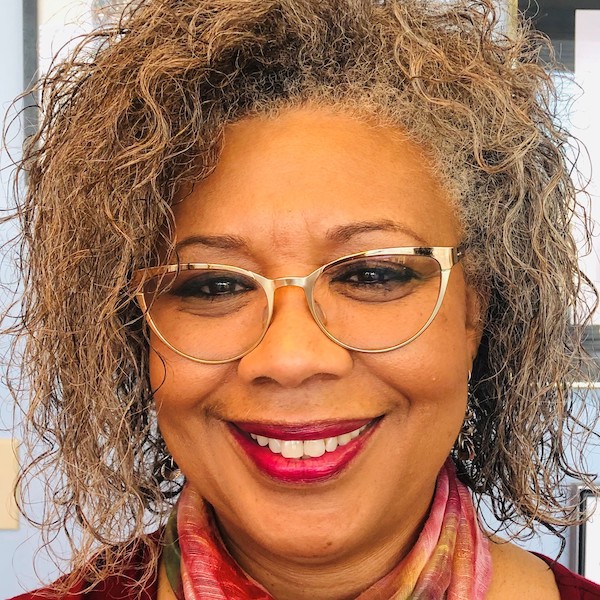 LO Many newcomers, and many settlers who have been here for a long time, do not know about Indigenous Peoples and do not understand their value systems, their different ways of seeing the world. And yet, Indigenous Peoples have so much in common with a lot of other newcomers, who are also products of colonialism, and who themselves have lost land and language and ways of living as a result of capitalism. And when I see Indigenous Peoples working diligently to hold on to their spirituality, their ways of living, their traditions, their language, the respect they have for their Elders – I think that's something that newcomers can learn from. And once we start to learn from each other, that division that colonialism creates between us will lessen. We're able to learn the truth about each other and see that we really have more in common than not.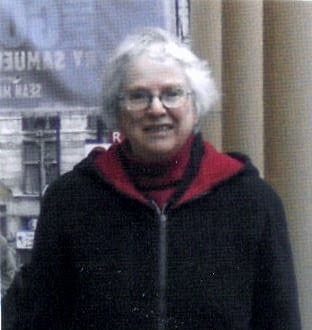 FS Decolonizing relations means keeping Treaty 4 in the spirit and intent in which it was signed by First Nations: a nation-to-nations agreement in which First Nations' land was to be shared with immigrants or newcomers, so that all peoples benefit. Decolonizing relations means implementing the United Nations Declaration on the Rights of Indigenous Peoples, with special reference to the requirement that national settler colonial governments seek Indigenous communities' free, prior, and informed consent before approving resource development projects on their land. And thirdly, decolonizing relations means Land Back. Canada is Indigenous land; it has not been decolonized.
This interview has been edited for length and clarity.