Emergency rally for Black lives draws hundreds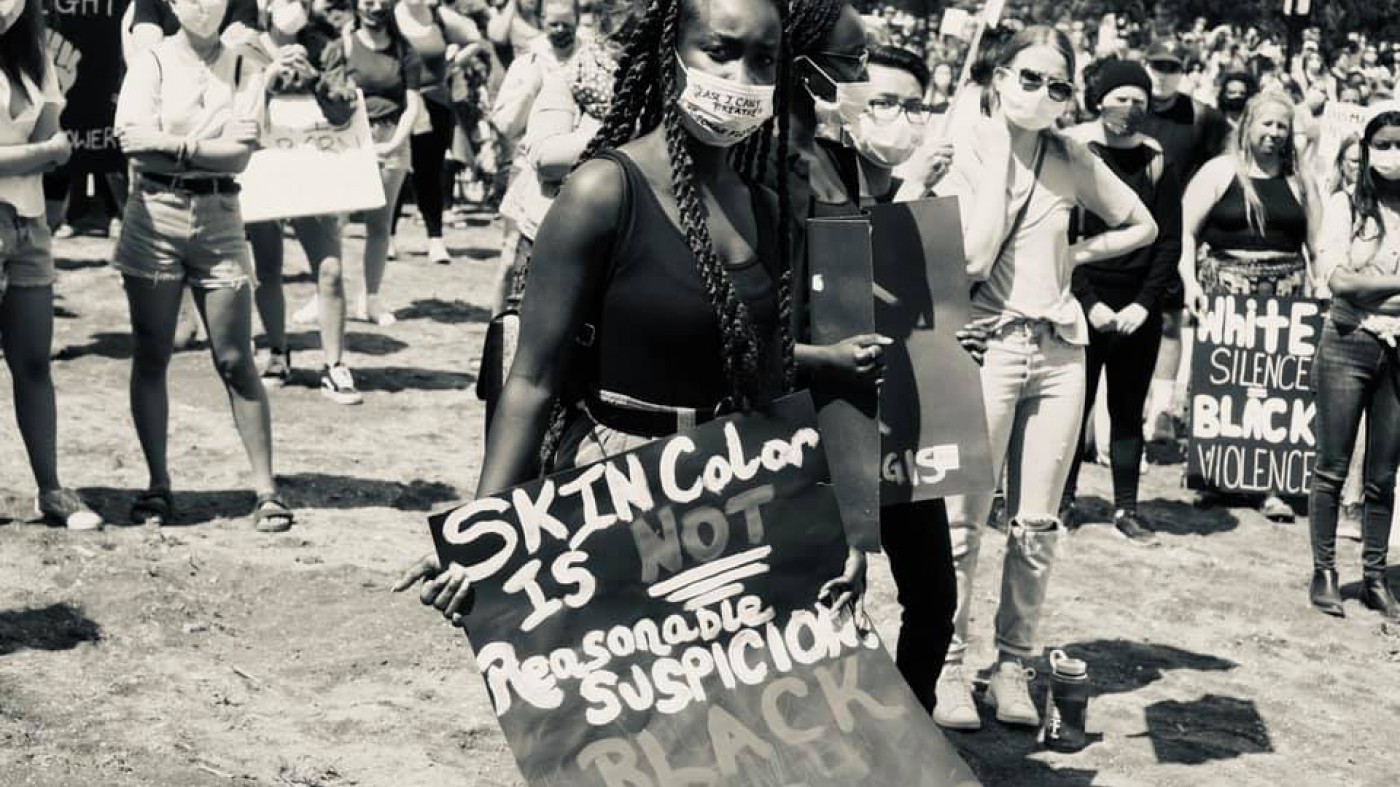 On June 2, prompted by the killing of George Floyd and the uprisings and peaceful protests that have sprung up in its wake, around 1,000 people gathered on the steps of the Saskatchewan legislature, spilling over onto the lawns and into the street to call for an end to anti-Black racism in Canada. The emergency solidarity rally was organized by four young Black Regina women: Faith Olanipekun, Libin Salad, kēr, and Amira Eman.
It's unsurprising to see young Black women on the frontlines of an event like this: Black women have been the force behind countless revolutionary movements for social justice. Attendees at Tuesday's rally held protest signs remembering Marsha P. Johnson, the Black American trans woman known for being one of the leaders of the Stonewall riots. And the need for radical, transformative justice continues to be articulated by Black women activists like Mariame Kaba, Angela Y. Davis, and Robyn Maynard. "These brilliant Black women, youthful in age but vastly advanced in capabilities and resourcefulness have been at the forefront of fostering community for years," kēr said in tribute to her fellow organizers.
"[Racism] is woven into the fabric of this country," Olanipekun said. "We are suffering in Canada as much as people in the U.S. are suffering."
Neither the mayor nor the chief of police attended the event (Mayor Michael Fougere – whose absence was booed – said he had a long-planned meeting. Police Chief Evan Bray had "a commitment"). But a message from the mayor, which was read by a representative of the Prairie Somali Canadian Society, and later echoed by Sask Party Speaker of the Legislative Assembly Mark Docherty, insisted that "we are not the U.S." It's an unhelpful approach to racism in Canada, one that was addressed by Olanipekun. "[Racism] is woven into the fabric of this country," she said. "We are suffering in Canada as much as people in the U.S. are suffering." kēr agreed, noting the way that Canadians sugar-coat their own racism with polite language. "My mother hated me eating in bed," kēr told the crowd. "So she often told me, 'If you eat in bed, the mice will come from all over the city and they will gnaw on your fingers, and you won't feel it because they gnaw and then they blow to soothe the wounds they're creating, and then gnaw some more. […] That's what racism is like in Canada."
Saskatchewan's history of anti-Indigenous racism – from Saskatoon's deadly Starlight Tours to the province's dubious distinction as the home of the last residential school, to the genocide by starvation that cleared the way for its settlement – is fairly well known in the province. But anti-Black racism has its own lethal presence here. At one point, organizers and attendees called out the names of Black people who have died in Saskatchewan. Among them was Samwel Uko, the young man whose body was found in Wascana Lake on May 21. Rally organizers – and Uko's family – say that his death after he was turned away from the General Hospital after seeking help for mental illness was due to racism in the healthcare system. "I need help," the crowd chanted, repeating some of Uko's last words from a Snapchat post the day he died. In March, an inquest was held into the suicide of Kaleab Schmidt, a 13-year-old Balgonie teen who experienced at least two incidences of anti-Black bullying leading up to his death.
"I hate it that when Black kids go out, their parents sit down and hope with bated breath for their kids to come home," kēr said. "I don't want that for us."
After their own speeches, the organizers opened the mic to community members and attendees. Several of the speakers addressed their own experiences of anti-Black racism in Regina, noting that it came from both the police and the public. "The police need to behave," said one man, an immigrant from the Democratic Republic of Congo, who reported being followed home from work in the early morning hours and stopped by an officer who told him he looked "rough." Black people make up 3.4 per cent of Canada's population, but they account for 9 per cent of all people killed in interactions with the police. Another woman, a mother of three, told the crowd about being told to "go home" in a Safeway just a few weeks ago. "They said, 'you don't belong here.'" But on the steps of the Legislature under the fierce heat of the sun, she was defiant. "This is my home," she said. "I'm not going anywhere."
The message from organizers and speakers was clear: the work that needs to be done doesn't end with the rally. "I'm still Black tomorrow and the day after and the day after," said one community member. Organizers directed attendees to write to their elected representatives and the Saskatchewan Health Authority, calling for an end to medical discrimination in the healthcare system and an investigation into Uko's death; to call for an end to systemic racism in education and employment in Saskatchewan; to call for justice and equal opportunities for migrants; to demand an end to police brutality; and to honour, hire, pay, and protect Black LGBTQ2S+ people. They also directed the crowd to financially support a number of GoFundMe campaigns for the families of Black people who have lost their lives to systemic racism and police violence.
"No Black person should ever have to come out in defense of their lives [...] But in a global fucking pandemic, we gather to speak for Black lives."
"I hate it that when Black kids go out, their parents sit down and hope with bated breath for their kids to come home," kēr said. "I don't want that for us." She added that being at a rally in defense of Black lives wasn't how she wanted to spend her day. "No Black person should ever have to come out in defense of their lives," she said. "But in a global fucking pandemic, we gather to speak for Black lives." And although she didn't relish being there, she drew on a long history of Black insurrection – like the slave revolt in Haiti that successfully toppled French colonial rule – for strength. "I would like to give thanks to the Republic of Haiti, without which no Black freedom exists. One day the mother republic will receive what she's owed."