Saskatoon welcomes premiers with climate justice protest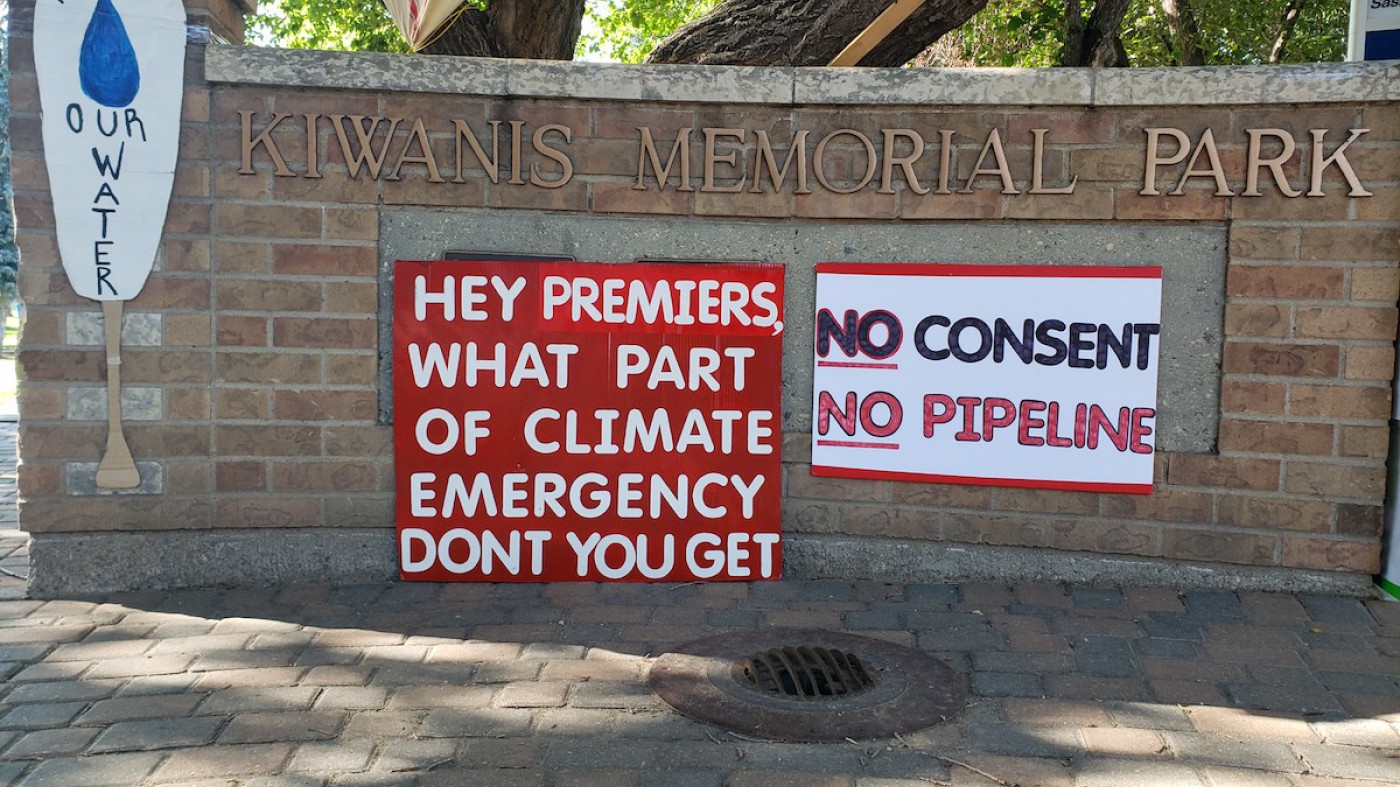 Premiers of the provinces and territories were urged to take immediate action on climate change as they came and went from the Bessborough Hotel during the Council of the Federation conference in Saskatoon, Treaty 6, Saskatchewan.
"What do we want? Climate action! When do we want it? Now!" community members chanted on Tuesday evening at the hotel entrance.
The groups organizing the demonstration – including Climate Justice Saskatoon – are calling the event "Grassroots Voices Welcome the Premiers." Activists are planning on camping out for four days – from the evening of July 8 to the evening of July 11 – and have set up four tipis in Kiwanis Memorial Park, just south of the hotel.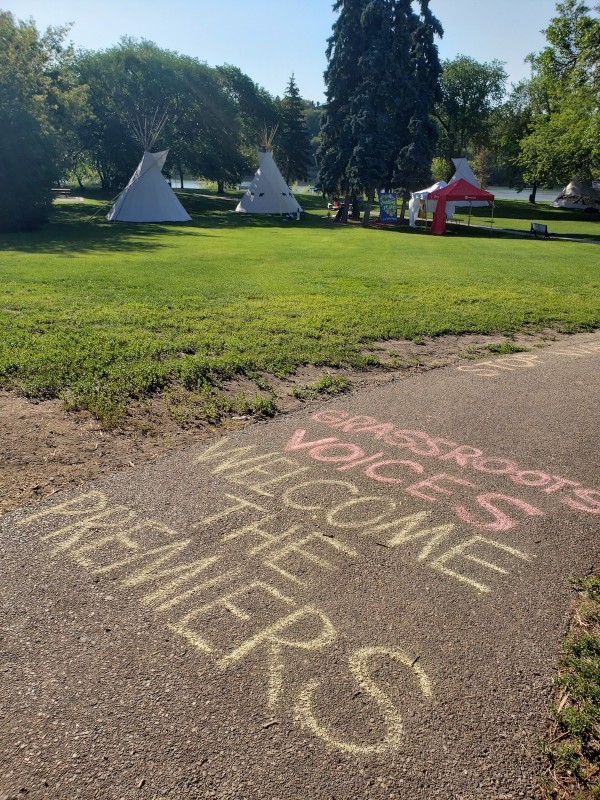 After welcoming the premiers on Tuesday, a free barbeque was held at the camp, feeding approximately 80 people, followed by talks, songs, and dancing. Around a dozen people stayed overnight.
Speakers have drawn links between the climate crisis and the issue of missing and murdered Indigenous women, girls, and LGBTQ and two-spirit people.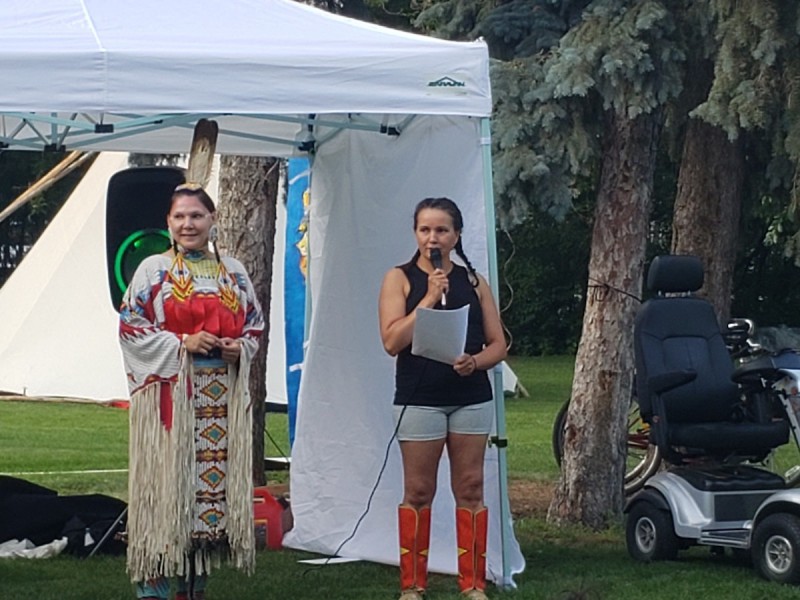 Nancy Greyeyes is a Cree woman and an organizer with Climate Justice Saskatoon. During a speech on Tuesday, Greyeyes echoed the recently-released findings of the National Inquiry into Missing and Murdered Indigenous Women and Girls (MMIWG), saying that the man camps that accompany resource industry projects are correlated with a spike in gendered violence against Indigenous people. "It all promotes the idea that our mother, Ki-Kawinaw Askiy, is expendable, that she's a resource, that all that's in her is for humans to use," Greyeyes explained in her speech. "When we signed treaty we said we would share [the land] to the depth of the plow. That's all we were to take."
The Council of the Federation comprises all 13 provincial and territorial premiers, and the 2019 conference is hosted by Saskatchewan premier Scott Moe. With pro-oil and conservative premiers from Alberta, Manitoba, Ontario, and Quebec in attendance, this year's batch of premiers marks a shift from the conference's liberal and social democrat attendees of recent years. British Columbia NDP premier John Horgan is now the outlier. Horgan supports LNG Canada's massive $40 billion proposed liquefied natural gas pipeline project, but opposes the Trans Mountain tarsands pipeline expansion.
A pro-oil Yellow Vest rally – associated with a national movement whose members and organizers have been linked to far-right and white supremacist groups – is planned for Wednesday at 3 p.m. near the hotel. Later, at 6 p.m., the Grassroots Voices Welcome the Premiers camp is holding its own rally.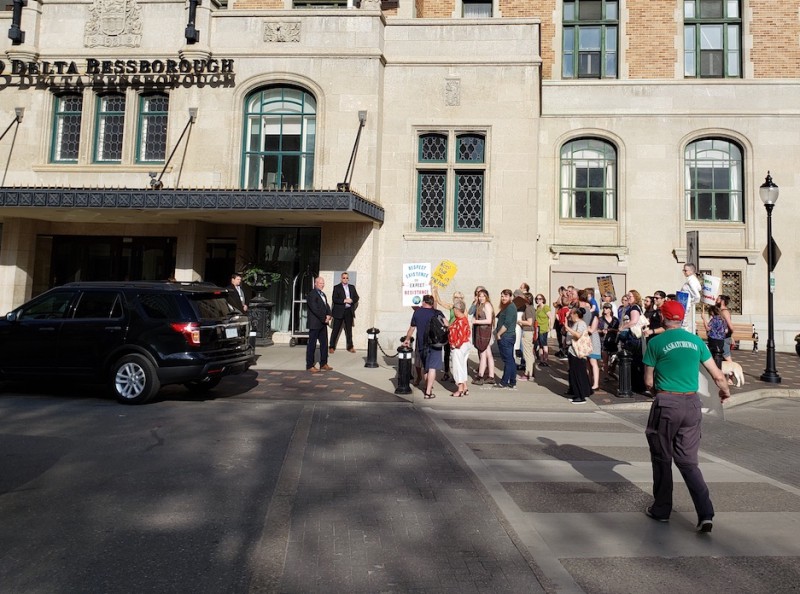 Courtney Bowman, who helped organize the event, got involved with Climate Justice Saskatoon a few months ago.
"I Googled in Saskatoon to see if there were any groups that were doing something because I really desperately needed to be involved in something that was already going on the ground," Bowman tells the Sask Dispatch. "I really don't see any point in doing anything individually because, individually, what can you do?"
Bowman sees this event as a continuation of Climate Justice Saskatoon's recent work, which has included helping organize a Green New Deal town hall in May that packed the Albert Community Centre in Saskatoon.
"We see this [event] as critical because solutions need to be implemented at all levels of government: municipal, provincial, and federal," Bowman adds.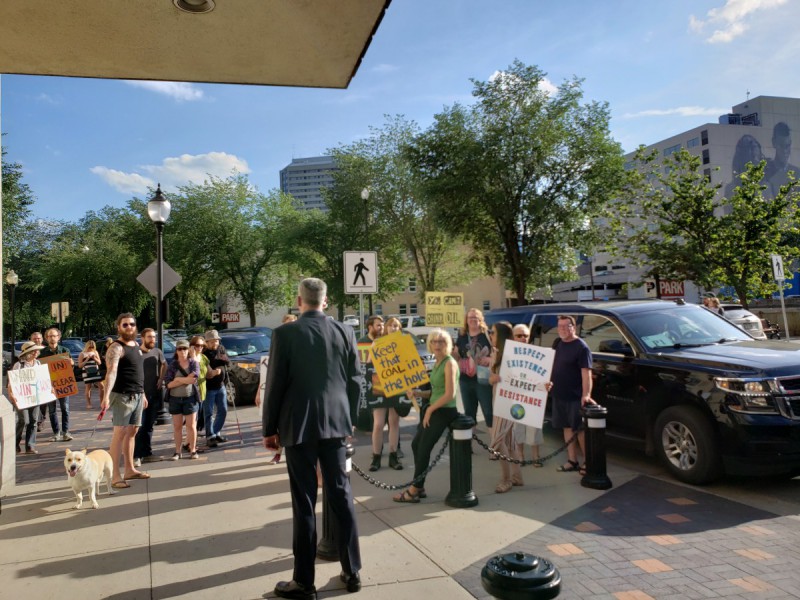 "Two of the key issues we're trying to raise with this event are that pipelines are not an option at this point in time for meeting the scientific goals of the Paris Accord. And also that pipelines and resource extraction have devastating effects on Indigenous communities, specifically Indigenous women, girls, [and] trans and two-spirit people," Bowman continues. "There is a substantial body of evidence that's been released through the MMIWG Commission that indicates that this is a very serious systemic problem."
For Greyeyes, First Nations women "were taught to protect our children for the next seven generations, to do whatever we have to do to make certain they're going to live a good life, that they're going to live healthy, and we give them all the teaching that they need to survive."
The camp has events open to the public planned Wednesday and Thursday evenings starting at 6 p.m.